Jamaica debates drug tests for young athletes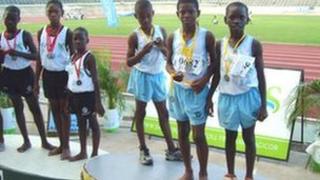 In Jamaica, the search is on to find the next generation of track and field stars, to follow in the footsteps of top Olympic sprinters like Usain Bolt, Asafa Powell, Veronica Campbell and Shelly-Ann Fraser.
But pressure on junior athletes and high school coaches to keep winning is raising concerns over drugs in sport.
The athletic community, and the media, are debating whether drug-testing should be introduced at the boys' and girls' athletics championships.
At Jamaica's national stadium, local primary school coach Donovan Trail points to a front-page headline which poses a frequently asked question: "Jamaica's Next Sprint Star?"
Underneath, is a photo of a 12-year-old boy who has just won the junior national trials.
"Everyone wants this boy, this boy is a future Usain Bolt, so, everyone wants this boy," Mr Trail says.
Local and international coaches are scouting hard for potential talent, and they are looking at an ever younger age.
"Everyone wants to run like Usain," says Dr Patrece Charles-Freeman, executive director of the Jamaica Anti-Doping Commission (JADCO).
"Our athletes are doing well and at a younger age. Coaches are zoning in on primary school athletes now. That's how competitive it has become."
Air of suspicion
Shanti Blake, a former junior athlete, is an assistant coach for a local primary school for children between ages 4 to 11.
"In Jamaica, there's a lot of pressure on athletes and it's not good. They try to work us too hard. You know within yourself that it's not right," says Shanti.
Michael Clarke, coach at Calabar High School in Kingston, supports the idea of drug-testing at a younger age.
"At the World Youth Championships, testing starts at 15," he says.
"We can look at that and lower the age but it should not be mandatory. It saves us denting our national pride, to prevent us (Jamaicans) from being labelled as cheats."
Jamaica's boys and girls athletics championships is a high-profile high school competition for under-19s that has celebrated its 100th year.
Known locally as Champs, it attracts huge crowds and the international media, and can be the place to spot future Olympic stars.
Some local coaches say that to introduce drug-testing at Champs would "clear the air" of suspicion.
"They should introduce drug testing," says Ransome Edwards, a coach at Vere Technical High School in Clarendon.
"I believe there are drug users amongst us, I believe so."
JADCO has recently added 10 junior athletes - all 15 years and older - to their testing pool.
Dr Charles-Freeman looks at past performance in deciding whether to include them in testing.
She does not rule out testing under the age of 15, if she thinks there is foul play.
"It depends on the athlete," she says.
"We have some very young swimmers and excellent track and fielders at the boys and girls champs, who are excelling at a rate which is phenomenal, even our primary school champions, which takes us into the 10-year age range.
"We have not tested anyone at that age, but I wouldn't rule it out."
Champs is organised by the Inter Secondary School Association (ISSA). Colleen Montague, a school principal and head of ISSA's organising committee, objects to drug-testing youngsters.
"I would not like my four-year-old to have sex, in the same way as I would not like a 12-year-old to be tested," she says.
Mr Clarke is concerned about the lack of awareness of doping on the junior athletics circuit.
He believes the real problem is not with expensive performance enhancers, which he thinks most juniors could never afford. He is more concerned about prescription drugs and energy drinks.
"I can tell you that 99.99 % of these kids, do not care what they eat, what they drink and they're the ones that will grow in ignorance."
'No Dope'
Coach Shanti Blake agrees that there is a lack of awareness at the junior level, when it comes to the consequences of taking drugs like cough medicines and headache pills.
"A lot of times, they get prescribed things from doctors and they don't know what it does and they take it, not knowing that it boosts their energy," he adds.
JADCO are trying to push the anti-doping message among juniors, to increase drug awareness and prevent positive results at the senior level. They run high school workshops for athletes and coaches.
There is also a song called "No Dope" which is played out across loudspeakers in the central bus station when children are waiting to go home after school.
"If we can teach a non-doping culture at an early age and teach them the consequences of doping, then we wouldn't have to test," says Dr Charles-Freeman.
Mr Blake thinks there is an argument for testing juniors but would prefer the minimum age to be raised from 15 to 17.
"Test them no younger than 17 years old. Because when you are 15, 16 and your coach asks you to take something, you do not ask any questions," he says, "but when you are 17, you would ask questions".
You can listen to Nina Robinson's full report on the BBC World Service's Assignment programme.