Trinidad marks 1990 coup attempt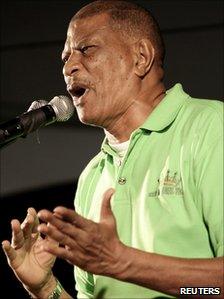 Trinidad and Tobago is marking the 20th anniversary of one of the bloodiest and confused periods in its history.
On 27 July 1990, more than 100 members of an Islamist radical group, Jamaat-al-Muslimeen, stormed parliament.
Everyone inside, including the prime minister, was held hostage for several days, as violence and looting erupted in the capital.
Twenty years on, the government has announced an inquiry into what provoked the coup attempt.
The storming of parliament and a TV station, and the ensuing violence, resulted in a state of emergency being imposed on 28 July.
By the time the rebellion ended, much of Port of Spain had been reduced to a smouldering heap of rubble and destruction.
Twenty-four people died - including an MP, Leo Des Vignes - and many more were injured.
The prime minister, ANR Robinson, was beaten and shot when he tried to order the army to "attack with full force".
After prolonged negotiations with the hostage-takers, during which the prime minister signed an amnesty agreement with their leader Yasin Abu Bakr, Jamaat-al-Muslimeen members surrendered on 1 August.
They were then tried for treason but were released when the Court of Appeal upheld their claim that their surrender was based on the promise of amnesty.
This decision was subsequently overturned by the London-based Privy Council - the country's highest court, which invalidated the amnesty - but the Muslimeen members were never re-arrested.
Trinidad and Tobago's current prime minister, Kamla Persad-Bissessar, was expected to attend the annual church service at the Holy Trinity Cathedral on Tuesday.
There was also due to be a wreath-laying ceremony at parliament - the Red House - in remembrance of those who lost their lives.
Last week, Ms Persad-Bissessar announced that a commission would be set up to look into what sparked the coup attempt.
Ms Persad-Bissessar, whose five-party coalition won the May parliamentary elections, said the investigation would help the country close a painful chapter in its history.
She went on to say her government also intended to auction off properties owned by Jamaat-al-Muslimeen to help repay the state for damage caused during the rebellion.
Mr Abu Bakr told a local newspaper he welcomed the initiative.
At long last, he said, they would be able to tell their side of the story.
"If I am alive, God willing, I will be the first person to testify," he said. "It's 20 years too late, but never too late."
The entire population needed to know the genesis of the events of 1990, said Mr Abu Bakr.