Fidel Castro to release first volume of memoirs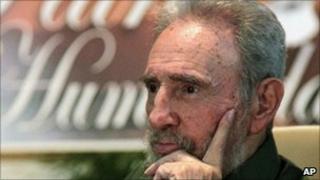 Cuba's former President Fidel Castro has unveiled plans to release the first volume of his memoirs.
The book, to be called The Strategic Victory, will be published in August.
It will focus on the story of how just a few hundred revolutionaries under Mr Castro's command defeated the Cuban army in 1958.
Mr Castro, 83, said he had spent months working on the book since falling ill in 2006 and handing power to his brother Raul.
Among the many titles the former revolutionary said he considered for the 25-chapter book was: How 300 defeated 10,000.
The volume includes photographs, maps and plans of the guerrilla war against the dictator Fulgencio Batista, he told Cuban website cubadebate.cu.
There will also be a detailed account of the final offensive, which Mr Castro said lasted 74 days.
Taking Havana
After Batista's army was defeated at the battle of Las Mercedes in the first week of August 1958, Mr Castro writes, "the fate of the tyranny was sealed".
"Its military collapse was imminent," he adds.
The rebel army suffered 31 deaths, while the government lost 300 troops and saw many more taken prisoner, according to Mr Castro. The rebel army seized a large amount of weapons and ammunition.
From then, the rebel army was in a position to launch its final, strategic offensive, the veteran communist writes. The war engulfed the whole country and Mr Castro's rebels took Havana on the first of January, 1959.
Fulgencio Batista then fled Cuba.
The Strategic Victory will also include a short autobiography in which the former president remembers his childhood and describes how he became a guerrilla fighter.
"I did not want to wait to respond to the numerous questions about my childhood, adolescence and youth and how I became a revolutionary and armed combatant", Mr Castro writes.
After a long period of seclusion since his illness, Mr Castro, who turns 84 next month, has made seven public appearances in recent weeks, including three televised speeches.
He said he would continue working on a second volume of memoirs, to be called The Final Strategic Counteroffensive.