US closes its consulate in Ciudad Juarez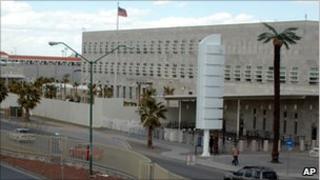 The US has closed indefinitely its consulate in Ciudad Juarez, the Mexican city worst affected by the drugs war being fought by rival gangs.
A statement from the US embassy in Mexico City said the consulate would remain shut until a security review is completed.
In 2009, more than 2,600 people died in drug-related violence in Juarez, across the border from El Paso, Texas.
A US official said the consulate had closed following a "credible threat".
A statement on the consulate's website advised American citizens to avoid the area around the building.
The consulate is the only place handling applications for US residency from Mexican citizens.
The consulate also closed for several days in March after three people - a US employee, her husband and the husband of another staff member - were murdered by gunmen linked to the drugs cartels.
In the wake of the shootings, the US State Department authorised employees at some of the six consulates in Mexico to send family members out of the area.
In April, an explosive device was thrown at the US consulate in Nuevo Laredo, causing some damage but no injuries.