Colombia denies plans to attack Venezuela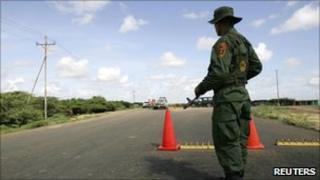 Colombia has emphatically denied it plans to attack Venezuela.
The denial follows accusations by Venezuelan President Hugo Chavez that his Colombian counterpart, Alvaro Uribe, is "capable of anything".
A spokesman for the Colombian government called President Chavez's remarks "deceptive" and said Bogota had never even considered an attack.
On Friday, President Chavez said he had sent extra forces to the border to boost Venezuela's defences.
'Brother nation'
In a phone call to Venezuelan state television, he said the deployment included soldiers, air units and special forces.
Colombian government spokesman Cesar Velasquez said claims that Bogota was planning to attack its "brother nation" were an attempt by President Chavez to deceive his people.
"Colombia has gone through the proper international channels and will continue to insist on the application of international law to ensure Venezuela complies with its obligation not to harbour Colombian terrorists," he added.
Venezuela severed relations with Colombia last week after a heated meeting at the Organization of American States.
Bogota had called the extraordinary session of the regional body to formally complain about Venezuela allegedly tolerating Colombian rebel camps on its territory.
The Colombian ambassador presented videos, photos and maps, which he said proved that 1,500 members of the Revolutionary Armed Forces of Colombia (Farc) and National Liberation Army (ELN) were operating inside Venezuela.
President Chavez angrily denied the accusation and immediately severed diplomatic ties with Colombia.
The breakdown of relations was addressed at a meeting of the South American regional group Unasur (Union of South American Nations) on Thursday in Ecuador, but the foreign ministers gathered there were unable to resolve the crisis.
They agreed to hold another meeting "at the highest level" to renew their mediation efforts.