Paraguay footballer Cabanas 'recalls little' of attack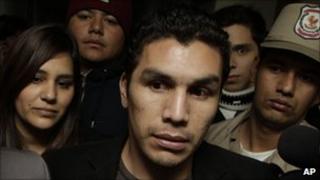 Paraguayan footballer Salvador Cabanas has virtually no memory of an attack six months ago in which he was shot in the head, officials say.
Mr Cabanas was speaking at a hearing in Paraguay in response to questions from Mexican prosecutors about the attack, which happened in a Mexico City bar.
The striker, who played for Mexican club America, had been expected to be in Paraguay's team at the World Cup.
The bullet that nearly killed him is still lodged in his skull.
Doctors say it is too risky to try to remove it.
'Vague memories'
Mr Cabanas and his wife were in Bar Bar, in a well-off neighbourhood of Mexico City, when he was shot at close range.
He spent more than a month in hospital in Mexico and has been continuing his rehabilitation at a clinic in Argentina.
"He only mentions vague memories that he's been having of that moment," said Paraguayan judge Pedro Mayor, who oversaw Monday's hearing in the capital, Asuncion.
Cabanas said he could not remember the faces of those who attacked him, the judge said.
The suspected attacker, Jose Balderas Garza, has not been caught.
In June, police arrested an alleged accomplice, Francisco Barreto Garcia.
The motive for the shooting remains unclear.
Mr Cabanas was the highest-profile player in the Paraguayan national team and a prolific scorer in the Mexican league.
Mr Cabanas has regained much of his mobility and has even played a bit of football.