Chile mine collapse traps 34 miners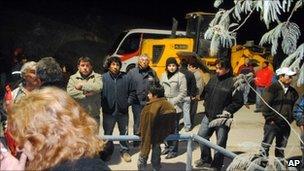 Rescue workers in Chile are trying to reach 34 miners who have been trapped underground at a copper mine in the country's north since Thursday night.
The miners were working at a depth of around 450m (1,475ft) at the San Esteban mine, near the city of Copiapo, when the rock above them collapsed.
Nothing has been heard of them since the incident, but officials hope they have taken refuge in a nearby shelter.
Major mining accidents are uncommon in Chile, the world's top copper producer.
On Friday, local television stations broadcast footage of dozens of crying relatives waiting for news outside the mine, in the Atacama region.
"We hope they are all fine, but we are also angry because we have no information about our relatives," one woman said.
Officials said the roof of the main ramp down into mine was thought to have collapsed around 100m (328ft) above the miners' heads.
Some 130 rescue workers are trying to reach them, but progress has been hampered because the main entrance is blocked.
"The ramp is not a possibility, it is completely collapsed. The solution is to go through the ventilation shaft," Labour Minister Camila Merino said. "We must work very carefully because if we create a new a collapse it will put rescuers at risk and harm the ability to get people out quickly", she added.
The BBC's Gideon Long in the capital, Santiago, says it was hoped that the miners have been able to reach a refuge, deep in the mine, where there are emergency supplies of oxygen, food and water.
"We pray to God that they are at the shelter," the superintendent of the Atacama region, Ximena Matas, told reporters.
But the emergency supplies will only last around 72 hours, making the rescue effort all the more urgent, our correspondent adds.