Venezuela's Chavez 'optimistic' over Colombia row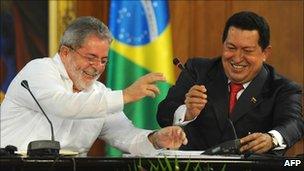 Venezuelan President Hugo Chavez has said his foreign minister will attend the inauguration of new Colombian president Juan Manuel Santos.
The apparent easing of relations came two weeks after President Chavez broke off relations with Colombia.
The row erupted after Bogota accused Mr Chavez of harbouring Colombian rebels.
Mr Chavez also said he was optimistic mediation efforts by Brazilian President Luiz Inacio Lula da Silva would ease tensions with Colombia.
President Lula has been encouraging President Chavez to resume dialogue with Colombia.
While President Chavez did not give any details of his discussions with his Brazilian counterpart in the Venezuelan capital Caracas, he said he had asked President Lula "to convey my greetings to the new president of Colombia".
He also said that Venezuelan Foreign Minister Nicolas Maduro would attend the inauguration on Saturday of Colombian President-elect Juan Manuel Santos.
Mr Maduro has already hinted he is willing to enter into talks with the new Colombian government.
Speaking on Tuesday, he said he was confident "the diplomatic crisis could be overcome within days".
Both Mr Maduro and President Lula will be attending the inauguration of Mr Santos on Saturday.
President Chavez severed diplomatic ties with Colombia on 22 July, after Bogota accused Venezuela of tolerating Colombian rebel camps on its territory at an extraordinary session of the Organisation of American States.
The Colombian ambassador presented videos, photos and maps, which he said proved that 1,500 members of the Revolutionary Armed Forces of Colombia (Farc) and National Liberation Army (ELN) were operating inside Venezuela.
President Chavez angrily denied the accusation.
Related Internet Links
The BBC is not responsible for the content of external sites.