Mexican president defends drugs war strategy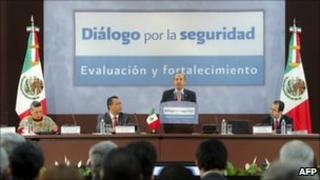 Mexican President Felipe Calderon has defended his strategy in the fight against drugs gangs, saying that rising levels of violence did not mean the war was being lost.
Mr Calderon was speaking on Tuesday at a meeting with opposition leaders amid growing criticism of his policy.
He said the cartels were suffering heavy casualties, and did not have the resources to fight indefinitely.
But he said he was prepared to revise his approach if necessary.
"I understand perfectly that there is a general perception that the war is being lost," he told leaders of the main opposition parties at a "dialogue for security" in Mexico City.
"I do not share that view, but I recognise that it is a general perception that the state must combat."
Body count
More than 28,000 people have died in drug-related violence since Mr Calderon deployed the army to fight the drug cartels in 2006.
But he said the number of dead was not the best way to measure success or failure.
"What it reflects is the gravity of the situation and the level of conflict between the criminal organisations," he said.
Mr Calderon said many of the killings were the result of clashes between rival gangs fighting for territory.
And he said the security forces were winning most of their clashes with cartel gunmen.
But his government was ready to "revise, strengthen or change" its approach if needed, he added.
"What I ask, simply, is for clear ideas and precise proposals on how to improve that strategy."
Follow the money
Some of the toughest criticism came on the issue of money laundering, with opposition leaders saying not enough was being done to cut the flow of billions of dollars in drugs profits the cartels use to extend their power and bribe officials.
"I don't think there even is a strategy," said Jesus Ortega, leader of the left-wing PRD party.
"A government policy implies attacking the financial system that benefits from money laundering and, as a consequence, benefits from the violence."
Most of the money was not "under the mattresses" of drug lords or hit men, Mr Ortega said, but "in the banks and financial institutions of Mexico and the US."
President Calderon said officials were drawing up a new strategy to combat money laundering.
He also reiterated his opposition to the legalization of drugs as a way of breaking the power of the cartels, saying such a decision could not be made by Mexico alone.
"If they are not legalised in the world, or at least the US, it's absurd because the price of drugs is not determined by Mexicans, it is determined by consumers in Los Angeles, New York, Chicago or Texas," he said.