US-Brazil debt for nature swap to protect forests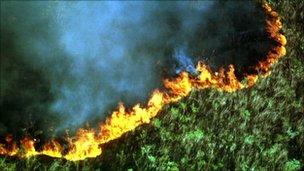 The United States and Brazil have signed an agreement converting $21m (£13.5m) of Brazilian debt into a fund to protect tropical ecosystems.
Instead of paying back the debt, Brazil will use the money to conserve its Atlantic coastal rainforest, as well as the Cerrado and Caatinga ecosystems.
All three are under threat from severe deforestation, but receive much less attention than the Amazon.
The US has signed similar debt swap agreements with 15 other countries.
Brazil's Environment Minister Izabella Teixeira said the deal represented a "qualitative leap" in cooperation with the US.
Brazil will use the money over the next five years to support conservation and boost the livelihoods of people who live in the threatened forest areas.
Ms Teixeira said the Amazon rainforest had not been included because it was already receiving conservation funds from other sources.
The Atlantic forest once covered most of Brazil's coastline, but more than 90% of it has been cleared over the centuries.
Despite this it still supports huge biological diversity, including 200 bird species and 21 primates found nowhere else on earth.
The Cerrado is a vast region of woody savannah in central Brazil where the natural vegetation is under pressure cattle ranching and soya farming.
The Caatinga, in the northeast, is a smaller area of unique semi-arid scrub forest where few areas of the original ecosystem now remain.
The debt for nature swap was made under the terms of the US tropical forest conservation act, introduced in 1998.
Similar agreements worth a total of almost $240m have already been made with 15 other countries, most of them in Latin America.
Related Internet Links
The BBC is not responsible for the content of external sites.