Venezuela moves women's baseball cup after shooting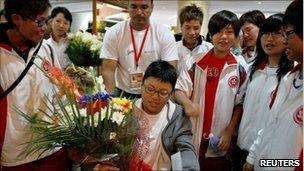 Venezuela has moved the women's baseball World Cup from a Caracas military base after a Hong Kong player was hit by a bullet during a game.
Cheuk Woon-yee spent the night in the base's hospital but was not seriously hurt. Hong Kong has since pulled out of the competition.
Vice-President Elias Jaua described the bullet as stray, and said it was not clear where the shot had come from.
The remaining games will be played in the city of Maracay, west of Caracas.
Sports Minister Hector Rodriguez said the tournament was being relocated "to reassure all of the participating teams".
"We're very sorry about [Hong Kong's] decision to pull out, but we respect it."
The sports ministry said Ms Cheuk was hit in the lower left calf and fell to the ground during the fourth inning of a match against the Netherlands, as she went to take her position at third base.
She was taken to the hospital on Fort Tiuna military base, where surgeons operated to remove the bullet.
Ms Cheuk left the hospital on Saturday, accompanied by members of her team.
Analysts say the incident is highly embarrassing for the Venezuela authorities, especially as Fort Tiuna military base is considered to be one of the safest places in Caracas.
President Hugo Chavez has been known to stay the night at the officers' mess.
A residence belonging to the vice-president is on the military compound, and high-ranking foreign delegations have been hosted there.
Gun violence has become increasingly common in Venezuela, one of the most violent countries in Latin America.