San Salvador archbishop denounces violent killings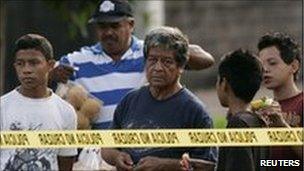 The Catholic Church in El Salvador has asked the authorities to step up their fight against a spate of violent murders in the country.
Archbishop of San Salvador Jose Luis Escobar Alas said he thought the security forces were well-meaning, but needed to do more.
He was speaking four days after a six-year old girl was found decapitated.
Monsignor Escobar Alas said her murder was a symbol of how barbaric things had become in the Central American nation.
"A girl of six, murdered on her way to school, how can that be?", he asked.
He said he had held a meeting with the security forces after the murder and thought they deserved the trust of the Salvadoran people.
But, he said, they needed to do more to "purge the bad elements in the police, the armed forces and the prison system".
While El Salvador has seen a series of gruesome murders this year, many of them gang-related, that of Marlene Alejandra Galdamez has shocked the nation.
Her youth and the brutality of the crime in an area of the country relatively untouched by gang violence, spread fear in the community.
Relatives and neighbours searched for the girl after she failed to return from nursery on Wednesday.
Her decapitated body was later found in a coffee smallholding near her home. Her head is still missing.
The following day, only four out of her 27 classmates showed up at the nursery, for fear they, too, could be targeted.
El Salvador has been plagued by gang violence for years, but police say they do not yet know what the motive for this particular crime could be.
Related Internet Links
The BBC is not responsible for the content of external sites.