Ecuador's mountain man teaches love of nature
By Irene Caselli
Ecuador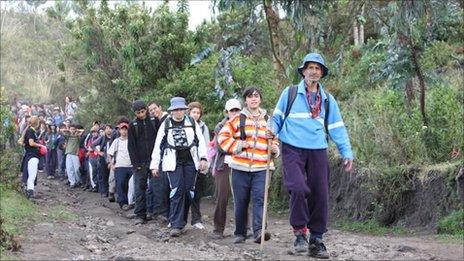 As he leads 100 children to the glacier of Ecuador's highest mountain, the Chimborazo, Fabian Zurita does not utter a word.
The inactive volcano is more than 5,000m (16,000ft ) above sea level, and the wind is strong. Like any sportsman, Mr Zurita believes that the key to success lies in concentrating.
Even more so at his age: at 75, he still climbs regularly, and has been doing so for 60 years.
For some of the children, this is their first time in the snow - but hopefully not the last.
Ecuador's snow-capped volcanoes have been a tourist attraction since the 19th Century when European explorers came to conquer the country's highest peaks.
"The change has been terrible, it's been apocalyptic," says Mr Zurita.
"It's terrible because there's hardly any snow these days. It's very painful for us who started back in the day when we were almost covered in snow lower down in the mountains.
"And there always used to be snow-capped mountains at the horizon."
Mr Zurita's love affair with mountains started on 27 December 1950. It was an extraordinary, if painful, experience.
He had recently turned 16 and took part in a school expedition to the snow-covered Illiniza mountains.
Nobody knew about the potential risks of standing in the snow without sunglasses.
"The following day, our eyes were burning, and it was terrible. We spent the day crying, we couldn't open or close our eyes, we were in constant pain," says Mr Zurita.
"But despite that, for me the first moments in the snow were fantastic. It's what the Indian philosophy would call enlightenment, something extraordinary, because another 30 friends climbed with me that day, but I'm the only one left."
Mr Zurita is indeed the last of his generation of mountaineers in Ecuador who is still active.
"Mountains contain everything. First of all, the ideal of getting to the summit, despite all difficulties. Then all sorts of values are practised up there - courage, comradeship, loyalty, enthusiasm, physical and moral strength to get over difficulties," he says.
Mr Zurita has never tackled the world's highest peaks but he believes sharing his love of Ecuador's mountains has been much more valuable to him.
"Climbing Mount Everest would be something I'd do just for myself, something beautiful but selfish," he says.
"I've never climbed the highest peaks, but I've worked on leading thousands of people up mountains. This has been my Everest."
In 1964, he organised the building of the country's first high-mountain shelter at 5,000m, which was named after him.
In 1972, Mr Zurita set a record by reaching the summit of Cotopaxi, the country's second highest peak at 5,897m, in only two hours and 40 minutes, by himself and without crampons.
The ascent usually takes five-eight hours.
When Mr Zurita first started climbing mountains, there was hardly any equipment available in the country, and no money to buy it.
He himself made his first sleeping bag by sewing feathers inside a blanket.
"It was heavy… but that was my equipment," he says. "That's why now that there are technological wonders, I'm not that interested, because the best thing at the time was to go on a pure adventure, starting everything from scratch… It was beautiful."
Mr Zurita was a priest but abandoned the religious path to focus more on his role as an educator.
In 1974, he founded Aire Libre, or Open Air, an organisation that helped him put his ideals into practice.
Aire Libre is most famous for its summer camps aimed at children from age six onwards.
The camps are very tough - for 23 days, children are away from their families without any mobile phones, television, music or sweets.
They climb mountains and live outdoors. Two generations of Ecuadoreans have already been raised through Mr Zurita's tough principles.
"For me Fabian is a great person," says 13-year-old Juan Martin Sanchez.
"He's a 75-year-old man who walks, runs, who's a healthy man, who doesn't need anything else but him and nature. I don't think he's crazy, he's just a strong man who wants us to be like him."
Juan Martin says he is going to continue climbing.
"I'm going to come back next year and continue this camp, always," he says.
"If this camp continues, my sons and daughters will come here, feeling the same experiences I'm feeling right now."
On the final day of the camp, parents who come to pick up their children ask worriedly whether this is the last time it will take place.
But despite his age, Mr Zurita has no intention of retiring.
"When I see the reaction of the children and the parents, I think I have to continue. Obviously it'd be easy for me to say, everybody has retired, I should retire too, after 60 years of mountains, 36 of summer camps," he says.
"But as long as I have the energy, I will continue. I hope I can do it especially because I feel obliged not to betray all these people."