Police held over Mexican mayor Edelmiro Cavazos killing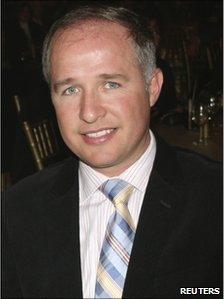 Mexican authorities have arrested six police officers in connection with the kidnap and murder of a town mayor.
The officers have reportedly confessed to killing Edelmiro Cavazos, prosecutors said.
Mr Cavazos' body was found, bound and gagged, outside the northern town of Santiago on Wednesday.
His police bodyguard, who was kidnapped with the mayor on Sunday and released by the kidnappers unharmed, has also now been arrested.
Mr Cavazos' bodyguard was the only witness to the kidnapping.
The police had been paid by a drug gang, prosecutors said, without naming the organisation.
"We are still looking for others who were involved as well," Nuevo Leon state Attorney General Alejandro Garza Y Garza said.
One of the officers took part directly in the kidnapping while others kept watch on roads surrounding the mayors home, Adrian de la Garza Santos, director of the state investigations agency.
The area around the northern city of Monterrey has seen a rise in violence blamed on a turf war between rival drug cartels.
Mr Cavazos is the fifth Mexican mayor believed to have been killed by drug criminals.
Police said Mr Cavazos had just returned from attending a public function on the town's main square when 15 gunmen broke into his home and forced him into a car.