Colombia arrests 'major cocaine trafficker'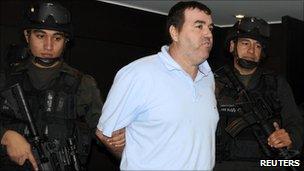 A Venezuelan businessman suspected of being part of a major drug trafficking ring has been arrested by Colombian authorities.
Walid Makled Garcia, 43, who is wanted by the US on drug charges and Colombia and Venezuela on murder charges, was caught in the border city of Cucuta.
He is accused of trafficking 10 tons of cocaine every month to the US and Europe.
Colombian police have hailed the arrest as a significant success.
Colombian police chief Gen Oscar Naranjo said that Mr Makled is on a US extradition list as "one of the world's most wanted drug traffickers".
Also known by his alias "The Turk", Mr Makled is wanted by a New York court for allegedly being part of a group which regularly smuggles large amounts of cocaine to the US and European markets.
At a news conference in Bogota on Friday, Gen Naranjo said Mr Makled was a "pseudo-businessman" who used legitimate business as a front for his illegal activities.
He was also said to have links with the Revolutionary Armed Forces of Colombia (Farc) Marxist rebel group, Gen Naranjo said.
But a handcuffed Mr Makled protested, saying: "It's nothing, nothing, just lies, lies... Do you really believe I am a criminal? I'm a businessman."
He accused Venezuela of planting the drugs on him so they could seize his companies.
Venezuelan authorities say they are also preparing an extradition request for Mr Makled, who they believe was responsible for two murders.
One of the victims, newspaper columnist Orel Zambrano, was killed by two gunmen on a motorcycle in January 2009 after writing about drugs cases where the Makled family had been implicated.
In 2008, Venezuelan police arrested Mr Makled's three brothers after finding 300kg of cocaine on a family ranch.
The BBC's Jeremy McDermott says Mr Makled is also believed to have been involved in the murder in Venezuela in 2008 of Wilber Varela - also known as "Soap", one of Colombia's most powerful drugs traffickers.
Earlier this month, Venezuelan President Hugo Chavez visited Colombia to mend ties between the two neighbours.
Relations had grown cold after Colombia accused Venezuela of harbouring Farc rebels.