Seven killed in Venezuela mine collapse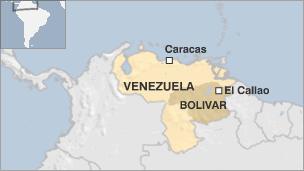 Officials in Venezuela say at least seven people have died in a cave-in at a mine in the east of the country.
A number of miners are also believed to have been trapped by the rockfall at the illegal gold mine in El Callao, in the state of Bolivar.
Emergency workers are trying to free those trapped.
Mining experts say safety standards at these unofficial mines deep in the Venezuelan jungle are often minimal, or non-existent.
President Hugo Chavez has tried to crack down on illegal mining, which he says have a devastating effect on the environment.
In April, he deployed the army to shut down some of the mining camps in Bolivar state.