Wyclef Jean election ruling is final, says lawyer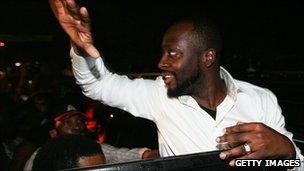 A ruling barring Wyclef Jean from running for Haiti's presidency is final and cannot be appealed, an electoral council lawyer says.
The 40-year-old hip-hop star has said he will appeal after the council said he was not eligible to stand in November polls.
The Haitian constitution requires candidates to have lived in the country for five years prior to an election.
Mr Jean lives in the US, but says he has been a roving ambassador for Haiti.
He argues that this exempts him from the residency requirement.
Samuel Pierre, from the electoral council's legal department, said that according to article 191 of the country's electoral law, decisions by the election authority's disputes tribunal cannot be challenged.
"Therefore, there is absolutely no possibility for Wyclef Jean to be added to the list of candidates approved to run in the next presidential elections," Mr Pierre told Reuters news agency.
The country is the poorest in the region, and still recovering from January's earthquake, which killed an estimated 230,000 people and left more than one million homeless.
Following the ruling on Friday, Mr Jean issued a statement saying he accepted the decision but did not agree with it.
But he later told reporters that he was refusing to give up and would challenge the ruling in court.
On Tuesday, in an interview with MSNBC, he said he had presented documents demonstrating that he met all the requirements, and alleged that the electoral council was corrupt.
He said potential rivals did not want him to run.
Mr Jean was one of 15 candidates disqualified from running in polls which will elect a successor to President Rene Preval.
Related Internet Links
The BBC is not responsible for the content of external sites.