Accusations fly in Argentina media war
By Daniel Schweimler
BBC News, Buenos Aires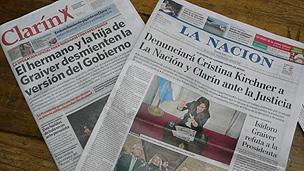 There is a battle raging in Argentina over freedom of the media.
On the one side is the government of President Cristina Fernandez de Kirchner. On the other is the country's largest media group, Clarin.
It is a battle that will only intensify in the run-up to next year's presidential elections but it has already turned nasty.
Among the weapons used so far have been accusations of crimes against humanity committed under military rule between 1976 and 1983, confusion over the public's choice of internet provider and, this being Argentina, football.
Ms Fernandez and her husband, Nestor, the former president, do not like Argentina's biggest-selling newspaper, Clarin. They have made that perfectly clear on several occasions. They believe it paints an unfair picture of them and their government.
In a speech, broadcast live on Tuesday on national radio and television, Ms Fernandez accused Clarin, and the country's other main newspaper, La Nacion, of benefitting from crimes against humanity committed during military rule.
She said that members of the Graiver family that owned Papel Prensa, Argentina's main supplier of paper to the newspaper industry, were tortured and forced to sell the company to the newspapers.
"For decades," said the president, "there's existed a power that has tried to use the state for its own interests. That's what I see in this case. I'm sorry to tell this power that I will not bow to their interests."
One leading member of the Graiver family, Lidia Papaleo de Graiver, confirms the story and sat in the front row as the president presented her report, called Papel Prensa: The Truth.
Ms Fernandez said she will pass it to the courts so that they can prosecute those responsible.
However, Lidia's daughter, Maria Sol Graiver, denies her mother's story and her brother-in-law, Isodoro Graiver, has signed full-page adverts in both Clarin and La Nacion refuting the claims and saying his family did not sell Papel Prensa under any kind of duress.
Several members of the Graiver family were kidnapped and tortured by the military in 1977 but the statement says that was several months after Papel Prensa had been sold "under the best conditions we could get, without threats or extortion and in freedom".
Clarin was a staunch supporter of Ms Fernandez and her husband, Nestor Kirchner. But that support waned after the government lost a bitter and divisive conflict with the country's powerful rural lobby three years ago.
When Mr Kirchner lost a regional election last year, he blamed Clarin's coverage and there began what some commentators say is a vendetta against the media group.
Ms Fernandez accusations over Papel Prensa were merely the latest in a series of measures designed to weaken Clarin.
Last year they took away their right to broadcast live Argentine first division football on their cable sports channel, TyC.
State-run television now broadcasts all matches for free. There have been few complaints from Argentina's football-mad public.
Then last week, the government announced that another Clarin offshoot, Fibertel, could no longer supply the internet to its more than one million users since it did not have and had never had a license to do so.
Clarin is fighting the decision through legal channels while angry users are protesting both on the streets and online.
A normally fragmented opposition was united in its condemnation of Ms Fernandez and her government.
In a joint statement on Tuesday, they said: "Like the dictators, they believe they can build an official history by censuring the press, controlling their materials and, with this new power, form an extraordinary state communication apparatus so that society only hears their side of the story."
Elections in Argentina are still more than a year away. It is not clear yet whether Ms Fernandez will stand again or will give way to her husband, Nestor, who was president before her.
The various opposition groups are meeting and negotiating but no clear unifying figure has yet emerged to lead them.
However the campaign, in the media at least, has already begun with neither Clarin nor La Nacion, which cater to the majority of Argentina's newspaper reading public, hiding their opposition to the presidential couple.
The accusations over Papel Prensa and the reaction to them are only the latest skirmishes in a conflict that is likely to get much nastier.
Related Internet Links
The BBC is not responsible for the content of external sites.