President Calderon condemns Mexico migrant killings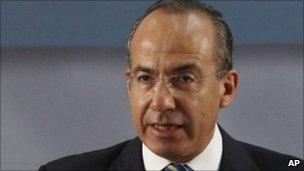 Mexican President Felipe Calderon has strongly condemned the killing of 72 people found dead on a ranch in the north of the country.
Mr Calderon blamed drug gangs for the killing of the group, who are believed to be migrants kidnapped by the notorious Zetas drug cartel.
Officials say they are trying to identify of the bodies.
Reports say the 58 men and 14 women were from South and Central America and had been trying to reach the US.
"President Felipe Calderon strongly condemns the acts in which 72 people, presumed migrants, lost their lives in Tamaulipas state," a statement from the president's office said.
Drug gangs were using "extortion and kidnapping of migrants as a means for financing and recruitment because they are having trouble getting money and people", it added.
Officials are taking the bodies to the nearby town of San Fernando for identification, said Ricardo Najera, a spokesman for the attorney general's office.
They are also bringing refrigeration equipment for the bodies.
An Ecuadorian man, known only as Freddy, who survived the attack is in hospital under guard, recovering from bullet wounds.
The human traffickers in Ecuador who organised his journey have issued death threats against his family in his home town.
The people smugglers said they would take revenge if they were identified, Freddy's family told the BBC.
Others in the group smuggled north were from countries including El Salvador, Honduras and Brazil, according to Freddy.
He told police the group had been kidnapped by an armed gang and killed after they refused to work for them.
After escaping, he alerted marines at a nearby checkpoint. Some were sent to investigate and a shoot-out followed, leaving three gunmen and one marine dead, the military said.
Photos by local media showed the bodies lying along the walls of an abandoned warehouse, some blindfolded with their hands tied behind their back.
Amnesty International says that the plight of migrants who cross Mexico is a major human rights crisis, and that every year large numbers of migrants disappear without trace.
According to the Mexican National Human Rights Commission, nearly 10,000 migrants were abducted, mainly for ransom, over a period of six months in 2009.
The BBC's Julian Miglierini in Mexico City says the Zetas, who have a strong presence in Tamaulipas, are known to use kidnapping and extortion as a mean to finance their activities.
Tamaulipas - where the incident occurred - has been the scene of fierce fighting between the Zetas and Gulf cartels.
Here is a selection of your comments: