Brazil government gives go-ahead for huge Amazon dam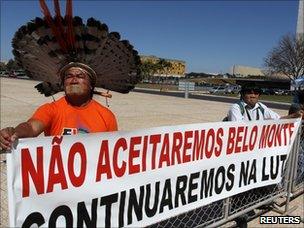 Brazil's government has given the formal go-ahead for the building on a tributary of the Amazon of the world's third biggest hydroelectric dam.
After several failed legal challenges, President Luiz Inacio Lula da Silva signed the contract for the Belo Monte dam with the Norte Energia consortium.
Critics say the project will damage the local ecosystem and make homeless 50,000 mainly indigenous people.
But the government says it is crucial for development and will create jobs.
Bidding for the project had to be halted three times before a final court appeal by the government allowed Norte Energia, led by the state-owned Companhia Hidro Eletrica do Sao Francisco, to be awarded the contract.
At the contract signing ceremony in Brasilia on Thursday, President Lula said he himself had criticised the dam before he learnt more about it.
"You cannot imagine how many times I spoke against Belo Monte without even knowing what it was about, and it is precisely during my government that Belo Monte is being unveiled," he said.
"I think this is a victory for Brazil's energy sector.
"We will persuade them that we took seriously into account the environmental and social issues," he added.
The proposal to build a hydro-electric dam on the Xingu river, a tributary of the Amazon in the northern state of Para, has long been a source of controversy.
The initial project was abandoned in the 1990s amid widespread protests both in Brazil and around the world.
Environmental groups say the 6km-long (3.75-mile) long dam will threaten the survival of indigenous groups, and the lives of up to 50,000 people could be affected as 500 sq km (190 sq miles) of land would be flooded.
Officials have dismissed the criticism and promised the winning consortium will pay $800m to protect the environment.
"The government has signed a death warrant for the Xingu river and condemned thousands of residents to expulsion," local Indian leaders said on Thursday.
The 11,000 MW dam would be third largest in the world, after the Three Gorges in China and Itaipu, which is jointly run by Brazil and Paraguay.
It is expected to cost between $11bn and $17bn, and provide electricity to 23 million homes.
With Brazil's economy continuing to show signs of growth, ministers say hydro-electric plants are a vital way to ensure power supplies over the next decade - and at least 70 dams are said to be planned for the Amazon region.
Critics say the Belo Monte plant will be hugely inefficient, generating less than 10% of its capacity during the three to four months of the year when water levels are low.