Drug gangs blamed for Honduras factory massacre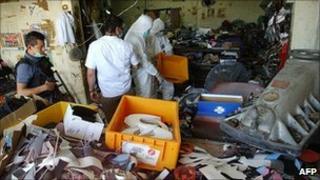 Honduran police have blamed street gangs linked to Mexican drug cartels for the killing of at least 18 people in a shoe factory.
The massacre in the city of San Pedro Sula was connected to a dispute over territory between groups of drug traffickers, officials said.
Up to four men armed with assault rifles burst into the factory and opened fire on Tuesday.
All the victims were said to be young men. Several others were wounded.
San Pedro Sula's police chief, Hector Mejia, said the attack was part of an escalating dispute between the rival Mara Salvatrucha and Mara 18 gangs.
The "maras" are criminal gangs that originated in Los Angeles in the 1980s and spread through the US into Canada, Mexico and Central America.
The most famous groups - the Mara 18 (M18) and Mara Salvatrucha (MS) - count tens of thousands of members in Central America.
Honduran Security Minister Oscar Alvarez said police believe the shoe factory attack was a settling of scores.
"This area is considered a Mara 18 stronghold and the people inside (the factory) were close to the MS," he said.
Mexican cartels use Central America as a smuggling route. Local gangs receive drugs in return for helping transport narcotics, officials say.
San Pedro Sula, about 165km (100 miles) north of the capital Tegucigalpa, is in an area where gangs are known to refine cocaine before it is moved into the US.