Chilean MPs join hunger protest by indigenous detainees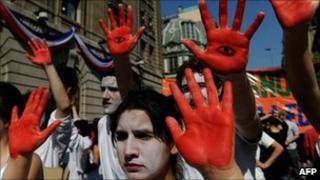 Four opposition congressmen in Chile have a joined a hunger strike by 34 indigenous Mapuche prisoners.
The Mapuches are protesting against being charged under anti-terrorist laws for their role in a land dispute.
They say they are political prisoners and should not be treated as terrorist suspects or face trial in military courts.
The government has called the congressmen's decision "irresponsible and populist".
President Sebastian Pinera has introduced a bill to modify the anti-terrorism legislation, which was established during the 1973-1990 military rule of Gen Augusto Pinochet.
But the Mapuche prisoners say they want deeper reforms, as well as direct dialogue with the government.
Most of the prisoners have been refusing food for two months, causing them to lose up to 18kg (40lb) each.
They are in jails across southern Chile awaiting trial on charges ranging from arson to armed assault.
The current anti-terror legislation allows prosecutors to define such crimes as terrorism, bringing harsher sentences and the possibility of trial in military courts.
Church mediation
The four left-wing congressmen are all members of the human rights commission of Chile's lower house of parliament.
Congressmen Tucapel Jimenez, Hugo Gutierrez, Sergio Aguilo and Manuel Monsalve joined the protest on Thursday during a visit to some of the the indigenous prisoners at a jail in Temuco.
The government has so far ruled out negotiations, but has asked the Roman Catholic Church to mediate.
The Mapuche are Chile's largest indigenous minority, making up around 5% of the population and based in the south of the country.
They resisted colonial rule for centuries and were only conquered in the 19th century, when most of their lands were confiscated.
In recent years Mapuche activists have blocked roads and staged land occupations to try to reclaim their ancestral territories from farmers and forestry companies.
Farms have been burned and forestry machinery destroyed, and the police say they have found guns and ammunition in raids on Mapuche homes.