Brazil's candidates tussle in debate as election nears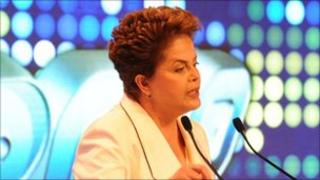 For someone who is not running for office, Brazil's President Luiz Inacio Lula da Silva is occupying a big part of the election campaign in his country's presidential poll due in just under three weeks' time.
He appears regularly in the election advertisements for his Workers Party candidate, Dilma Rousseff.
He plays a big part in the election programmes that have been running since August to promote Ms Rousseff's campaign for the presidency.
And he was at the centre of the first question to be pitched in the latest TV presidential debate held at Sao Paulo-based TV station, RedeTV!
What was the biggest failure of the Lula government, and what was the biggest success of the Lula government, the show's host, Kennedy Alencar, asked the four candidates invited to appear at the start of the debate.
And, he said, in what way would your government be different?
Ms Rousseff was the first to respond, stressing that under Lula the country's economy has grown, income had been redistributed, leading to "an extraordinary improvement in the quality of life of Brazilians".
Feel-good factor
The figures, in many ways, back Ms Rousseff's statement. During Lula's time in office, which began in 2003, the number of Brazilians classed as living in poverty fell from 49.5 million (some 28% of the population) to 29 million (16%) in 2008, according the Getulio Vargas Foundation, a research institute.
The majority of Brazilians are now regarded as belonging to social class C or the new middle class, with a monthly income of $650 (£425) to $2,800 (£1,285).
This feel-good factor has been at the heart of Ms Rousseff's campaign.
Opinion polls over the last few weeks suggest the strategy is working. Ms Rousseff is on course for some 50% of the vote, well ahead of her main rival, Jose Serra of the Brazilian Social Democratic Party (PSDB), and possibly an outright win in the first round on 3 October.
Mr Serra faces an uphill task. With President Lula reaching the end of his second term with approval ratings above 70%, Mr Serra cannot launch a full frontal attack on the government.
But he has to make it clear why he, and not the governing party's candidate, is the best choice to lead Brazil for the next four years.
His reply suggested his course of attack is to agree that things have gone well in recent years, but that this success is more down to Lula's predecessor, Fernando Henrique Cardoso, who is from Mr Serra's party.
The Lula government's main achievement, he said, was not to throw out the currency stabilisation plan begun under the previous administration.
Its biggest failures included corruption scandals and the failure to improve the health and education systems.
In recent years, the number of children attending school has reached nearly 100%. This has been helped in part by a cash transfer programme known as the Bolsa Familia, under which poor families get a monthly payment of up to 200 reais ($116) a month, provided their children go to classes.
But while many more children go to school, the standard of education they receive is generally low.
Restrictions
Other looming problems include the state of the country's infrastructure. Brazil's booming economy has stretched its ports, roads and airports, to near breaking point.
The complicated rules of Sunday night's debate meant the candidates were restricted in what they could ask each other, while the journalists had a limited amount of time to put questions.
Ms Rousseff and Mr Serra ducked and weaved, with Ms Rousseff opting where possible not to ask a direct question of her main opponent, while Mr Serra took advantage of every opportunity to attack her.
With Ms Rousseff and Mr Serra the main sparring partners, the other two candidates were reduced to supporting roles.
Marina Silva, of the Green Party, has about 10% of the vote, according to the latest polls.
Plinio de Arruda Sampaio, of the Socialism and Freedom party (PSOL) has under 1% support. But according to Brazilian election rules, was entitled to appear.
Mr Sampaio took full advantage of his time in the spotlight, provoking laughter among the selected guests.
Some of his answers were perhaps refreshingly honest , including a "I don't know" to a question from Ms Rousseff.
After two hours of more ping-pong than cut and thrust, the debate was over.
Dilma Rousseff and Jose Serra disappeared after a quick round of questions from journalists, while Marina Silva and Plinio de Arruda Sampaio mingled longer with the media crowd.
But all took questions, some posed with sniggering sexual overtones from the presenter of a popular comedy programme called Panic on TV before they left.
If the opinion polls are correct, panic is the last thing Ms Rousseff needs to do.
If she and her campaign hold firm and steer towards the 3 October election, including a couple more TV debates, she is on course to be Brazil's first female president.