Mexico security forces kill 19 in gun battle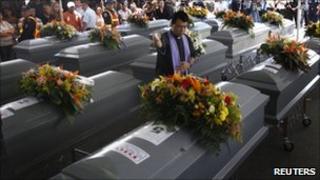 Mexican security forces say they have killed 19 people in a seven-hour gun battle in the country's north-east.
The soldiers say they returned fire when attacked at an illegal roadblock 100km (62 miles) east of Monterrey.
Nine of the alleged gunmen died at the roadblock, eight during a car chase which followed, and two were killed at a local ranch where they sought refuge.
North-eastern Mexico has seen frequent clashes between drug gangs and the troops deployed to fight them.
An army official told the AFP news agency that the security forces had received a tip-off about a fake roadblock through an anonymous telephone call.
He said that the people manning the roadblock had been wearing uniforms.
On Wednesday night into Thursday morning, millions of Mexicans celebrated 200 years of independence from Spain with events and parties across the country.
However, some communities cancelled events after cartels threatened to disrupt them.
Turf war
In recent weeks there has been an upsurge in violence in north-eastern Mexico, particularly in the state of Tamaulipas where the rival Zetas and Gulf drugs cartels have been waging a bloody turf war over control of smuggling routes into the US.
In one of the worst incidents, 72 foreign migrants from South and Central America, who had been trying to reach the US, were found dead at a rural ranch.
They were believed to have been killed by members of the Zetas gang.
The rising violence has led to growing criticism of President Felipe Calderon's military crackdown on Mexico's drug gangs. Opposition groups say the crackdown, which began three and a half years ago, has done nothing to stop the flow of drugs to the US.
More than 28,000 people have died in drug-related violence since President Calderon deployed the army against the cartels in 2006. The violence has spilled over into Central America.
However, the president has defended his policy, saying that the upsurge in violence is a sign that the cartels are becoming more desperate.