Newfoundland braced as Hurricane Igor heads north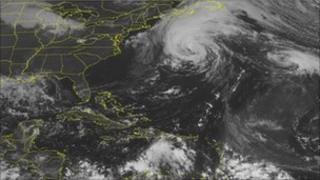 Parts of eastern Canada are braced for high winds on Tuesday as Hurricane Igor heads north after battering Bermuda.
A tropical storm watch is in force for the coast of Newfoundland from Stones Cove northward and westward to Jones Harbour.
By 1800 GMT, the storm was 350 miles (560km) north of Bermuda travelling at 26mph and with winds of 75mph.
The storm caused flooding and power cuts to thousands of homes, but spared Bermuda widespread destruction.
A Royal Navy warship and helicopter had been standing off Bermuda ready to help with relief efforts.
The Miami-based National Hurricane Center (NHC) said the category one hurricane would pass the south-eastern tip of Newfoundland, with maximum winds of 75mph (120km/h).
The storm watch there means tropical storm conditions within 48 hours.
The Canadian authorities have more general warnings of bad weather in place across southern Ontario, southern Quebec and Newfoundland and Labrador.