Venezuela opposition in bid to recapture parliament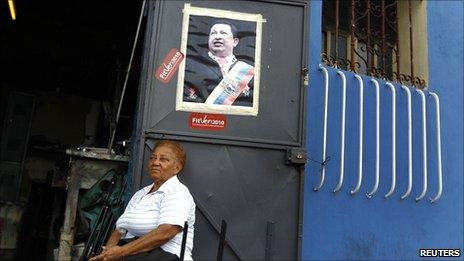 Whatever happens in Sunday's legislative elections in Venezuela, the opposition parties are sure to increase their share of the National Assembly.
That is partly because, five years ago, they boycotted the vote.
Rather than delegitimising the election as they had hoped, the decision helped left-wing parties loyal to President Hugo Chavez gain almost all of the parliament's 165 seats.
"The decision in 2005 was a complete disaster, there's no denying that," says Francisco Toro, journalist and founder of the anti-Chavez blog, Caracas Chronicles .
"But this time around, the bar is much lower. The opposition simply needs to avoid some of the glaring mistakes they've made in the past."
In 11 years of Mr Chavez's presidency, Venezuelan opposition groups have often been characterised as fractured and disjointed, in a marked difference to the uniformly on-message United Socialist Party of Venezuela (PSUV).
But for this election, several of the main opposition parties have come together under a single umbrella called the Democratic Unity Table (MUD).
Mr Toro believes they have also learnt some lessons in tackling Mr Chavez at the ballot box.
"The first thing they needed to do was to look beyond themselves and stop making every election about Chavez," says Mr Toro.
"Five years ago, the tone of the opposition rhetoric was very different: they would call him 'loco' and a communist and so on.
"Now they're trying to move away from talking about Chavez personally to more aspirational politics. They want to connect with recent disappointment at the Chavez government without naming him too much."
This year, the opposition has concentrated its campaign on a handful of core issues. First and foremost of those has been violent crime.
The government disputes the numbers, but official statistics say there were somewhere in the region of 14,000 murders in Venezuela last year, more than twice what it was when Mr Chavez came to power.
An opposition newspaper recently ran a controversial photograph of bodies piled up inside a public morgue on its front page, and some media have said there are now more civilian deaths every year in Venezuela than there are in Iraq.
For Mr Chavez, the claim is a media exaggeration, and a desperate effort by his opponents to grapple back some control of the assembly on Sunday.
"It's simply not true that Venezuela is one of the most dangerous countries in the world," the Venezuelan president said on television recently.
"Nor is it true that there is more violence today than there was 11 years ago," he added.
In the final few days of the campaign, opposition leader Julio Borges took a petition on violent crime to the National Assembly.
Government supporters accuse him of using crime as a political banner and have described his campaign as a "scratched record".
"It seems to me the government doesn't have the real will to face the problem of violence in Venezuela," he says.
"We are promoting ideas, we are promoting a plan, but the government tries to dismiss everything that we produce."
Andreina Tarazon was barely 11 years old when Mr Chavez came to power. On Sunday, she hopes to become one of his representatives in parliament.
Campaigning at a socialist housing project in Los Simbolos in Caracas, Miss Tarazon says voters are interested in other issues besides security.
"One of the main problems in Caracas is access to housing," she says.
"The poor urban distribution is unfortunately a product of bad planning over many years by the state, so that today we have a very overpopulated and poorly distributed city. That's one of the main complaints we've been hearing."
But she admits that crime is an important concern with voters: "Obviously, we can't deny the problem exists. It does.
"However, unlike the opposition, we have been working together with the local communities to find the answers on how to fix it."
The rising cost of food has been another key part of this campaign.
In May, tens of thousands of tonnes of food destined for the government's subsidised markets were found rotting in ports or dumped in landfill sites around the country.
It came at a time of shortages in basic foodstuffs, and in a country with one of the highest inflation rates in the Americas.
Government supporters said the losses were a small fraction of the hundreds of thousands of tonnes of food sold at subsidised prices since the state-run markets were set up in 2007.
Inside a Caracas branch of the newly nationalised Bicentenario supermarket chain, one shopper making the most of the state-controlled prices is Barbara Rogel de Trujillo.
A healthcare employee in her 60s, Ms Rogel says the socialist markets have helped her to cope with the rising cost of living.
But asked what the National Assembly should focus on, her answer is immediate: "Security. The poor want to live better and we want our money to go further, of course. But our biggest problem is the lack of security."
It is hard to know how far such concerns will be reflected at the polls or through abstentions on Sunday.
Either way, with both sides taking part, this vote looks set to be much more interesting than five years ago.
Related Internet Links
The BBC is not responsible for the content of external sites.