Rabies spread by vampire bats kills fifth child in Peru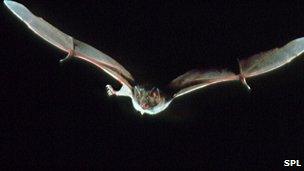 A fifth child has died in Peru in an outbreak of rabies spread by vampire bats, say health officials.
The death in the northern Amazon region brings the total number of people killed in the outbreak to 20.
A local health official said 3,500 people had been bitten by the bloodsucking bats.
He warned the number of deaths could rise because of the costs and difficulties of getting vaccines to the affected areas.
"There are very remote places, whose journey can take up to 15 hours through the jungle rivers," said Fernando Borjas in the regional capital, Chachapoyas.
The dead children, aged between five and 10 years old, were all members of the indigenous Awajun and Wampis communities, living in the north-eastern Peruvian Amazon, close to the border with Ecuador.
Peru's health ministry has sent emergency teams to the region and Mr Borjas said 900 people had already been immunised. But thousands have had no vaccine - some indigenous people were reported to have refused treatment.
Vampire bats usually feed on wildlife or livestock, but are sometimes known to turn to humans for food, particularly in areas where their rainforest habitat has been destroyed.
"These bats feed at night, and since they do not find large animals they bite unprotected people," said Mr Borjas.
Some local people have suggested this latest outbreak of attacks may be linked to the unusually low temperatures in the Peruvian Amazon in recent years.
Rabies is a viral disease which causes inflammation in the brain and is almost always fatal.