Farc 'likely to survive Mono Jojoy's death'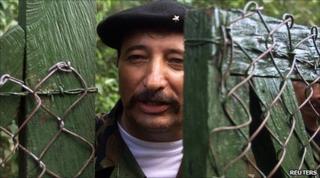 The Colombian military's successful operation against Mono Jojoy may not be the game-changer in the country's ongoing conflict that some are portraying.
Indeed, there is something familiar to declarations of victory here.
Senior officials of the administration of former President Alvaro Uribe announced nearly every year for the past eight years that, due to the successful military campaign against the Revolutionary Armed Forces of Colombia (Farc), the guerrillas were close to final defeat, and the country was entering a post-conflict era.
But however often it was repeated, it never exactly came to pass.
Eight years of Uribe's policy, bolstered by heavy investments in operational and intelligence capacities of the security forces, indeed weakened the insurgents considerably.
Farc experienced significant losses as thousands of fighters were killed, captured or decided to abandon the group and demobilise.
Communications and co-ordination between the high command and units suffered as the military concentrated on isolating the Farc secretariat from the rest of the organisation and forced it to splinter.
In seven years, Farc has lost control over a considerable portion of territory which it previously dominated.
While in 2002 the insurgents operated in roughly half of the country, in 2009 its armed actions were only registered in about 20% of Colombian municipalities.
Losses replaced
Yet the Farc's backbone is still not broken.
Being active in one-fifth of the country still represents a significant presence.
Maintaining a weakened but still functioning command and control structure, the organisation may have between 8,000 and 10,000 fighters in its ranks and has demonstrated an ability to respond to changes in the security environment.
Pressured by the military, Farc is relying more on mobile structures and small units for its attacks.
Despite the numbers cited by the government of those killed, captured or defected, Farc has been able to replace many of those losses, year after year, both through voluntary enlistments and through forced recruitment, particularly of child soldiers.
Guerrilla warfare tactics, the increased use of mines and other explosive devices as well as hit-and-run operations have replaced large-scale confrontations with the military.
Alliances with other illegal armed groups in and beyond Colombia provide for a steady flow of weapons and money from drug trafficking.
The group was able to increase its attacks in 2008 and 2009 with severe humanitarian consequences, particularly among indigenous and Afro-Colombian communities.
President Juan Manuel Santos's announcement during his inauguration speech on 7 August 2010 that the door to dialogue with insurgents was not locked marked a noteworthy change of direction from his predecessor.
But Farc leader Alfonso Cano, who had previously invited the president-elect to talk, has also used Santos's first six weeks in office to demonstrate that Farc is still capable of conducting operations.
Some 30 policemen have been killed in Farc attacks since Santos's inauguration.
Most Colombians seem to welcome the head of state's intention to transcend his predecessor's legacy by addressing root causes of the conflict - such as land, reparation for victims, corruption and social inequality.
However, they are less willing to make any concessions on the tough military stance against an organisation which has squandered nearly all of the legitimacy which it may have enjoyed in the past.
The successful military operation against Farc secretariat member Julio Suarez Rojas, alias Jorge Briceno or Mono Jojoy, is a crucial blow which further weakens Farc and strengthens the government's position.
However, just as with the natural death of Farc leader Manuel Marulanda two years ago, and the killing of Raul Reyes in the Angostura military bombing in Ecuador in 2008, this new loss is unlikely to be a fatal blow.
Whether these events mark the slow beginning of the eventual end of the organisation is a different question, however.
The capacity that Farc has shown to adapt in the past argues caution.
Much will depend on whether the group can quickly replace its military leader and reorganise internally.
Whether decisive or not, the killing of Mono Jojoy could lead to a further fragmentation of the organisation and, potentially, its further criminalisation.
At the same time, since military defeat remains unlikely, now might be the ideal opportunity for Santos to seize the momentum and work towards a negotiated end of the conflict.
Silke Pfeiffer is Project Director Colombia/Andes and Acting Programme Director Latin America for the International Crisis Group, an independent, non-profit, non-governmental organisation committed to preventing and resolving deadly conflict.