Northern Mexican mayor shot dead by gunmen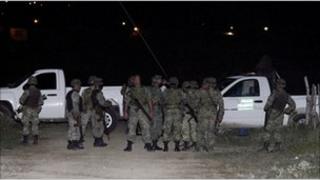 Gunmen have shot dead the mayor of a town in northern Mexico, the fourth to be killed over the past month.
Prisciliano Rodriguez was the mayor of Doctor Gonzalez, a town 50km (30 miles) east of Monterrey.
Monterrey was once considered one of the safest and richest places in Mexico but it has seen an upsurge in violence over the past month, blamed on gang warfare between drug cartels.
Last month, the mayor of nearby Santiago was also killed.
Edelmiro Cavazos was abducted from his house by armed men. His body, showing signs of torture, was found three days later.
The BBC's Julian Miglierini in Mexico City says the killings are raising concerns about the security of public officials.
Our correspondent says the cartels appear to be targeting the mayors of small and medium-sized towns in the areas of Mexico most ravaged by drug-related violence.
The Mexican Senate has asked the federal government to help mayors step up their personal security.