Colombia Senator Piedad Cordoba banned for 'Farc links'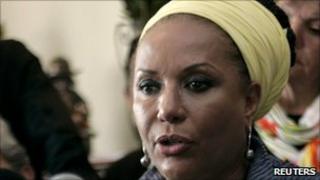 Colombian senator and peace activist Piedad Cordoba has been banned from public office for 18 years for "collaborating" with the Farc rebels.
Senator Cordoba helped negotiate the release of several Farc hostages two years ago.
But the inspector-general's office said there was clear evidence she had exceeded her role as a mediator by giving the rebels political advice.
Sen Cordoba says she is innocent and is preparing her response.
The inspector-general, Alejandro Ordonez, said the evidence against Senator Cordoba came from files found on computers captured when the Farc leader Raul Reyes was killed in 2008.
He said documents showed she had "exceeded her functions as well as the authorisation she was given by the government to negotiate a humanitarian exchange".
He added that evidence from legal phone taps and informants showed she had advised the Farc on ways of "improving their strategy for reaching their objectives."
Mr Ordonez also accused her of making public declarations aimed at "promoting and favouring" the rebel cause.
'Unprecedented sanction'
Piedad Cordoba's lawyer, Ciro Quiroz, told the Spanish news agency Efe that she would challenge the decision.
"It is a sanction without precedent in the history of Colombia, and one can see a certain cruelty in the action," he said.
Piedad Cordoba, 55, has been an outspoken advocate of peace talks with the Farc, and was last year nominated for the Nobel Peace Prize.
She is also a close ally of the Venezuelan President, Hugo Chavez, who played a part in negotiations for the release of Farc hostages and has himself been accused of backing the rebels.
Sen Cordoba has previously denied supporting the Farc, saying her sole aim as a mediator was to secure freedom for the hostages.
She has been a staunch critic of the Colombian government's security policies, accusing the armed forces of human rights abuses and collaboration with illegal right-wing paramilitaries.
But the inspector-general said her statements were not grounds for her to be prosecuted for treason, as some of her political opponents have demanded.