Colombia's Farc defiant after Mono Jojoy's death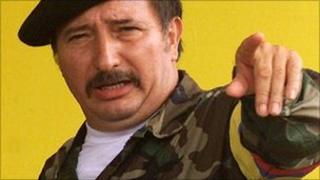 Colombia's Farc rebel group has urged its fighters to redouble their efforts following the killing last week of their military commander, Mono Jojoy.
The Farc hailed Mono Jojoy as a "hero of a thousand battles".
It said he had been replaced on its ruling secretariat by another guerrilla commander, known as Pastor Alape.
President Juan Manuel Santos has described Mono Jojoy's death as "the beginning of the end" for the Farc.
A Farc statement posted on the internet was the left-wing rebel group's first formal acknowledgement that Mono Jojoy, also known as Jorge Briceno, had been killed.
"We do not complain," the statement said. "As revolutionaries we are aware of the risks of the struggle we are engaged in."
Political solution?
The Farc said it would continue its fight for what it called "democratic peace with social justice".
It reiterated that it was prepared to seek a "political solution" to the five-decade-long conflict in Colombia, but would not accept unilateral conditions for dialogue.
President Santos has said he will only negotiate with the rebels if they cease their attacks and release all hostages.
He has promised to maintain military pressure on the Farc, and has urged the guerrillas to demobilise or face death or capture.
Mono Jojoy was killed in a large-scale military assault on his jungle stronghold in eastern Colombia on Wednesday.
The army said he was crushed when his bunker collapsed as it was bombed by the air force.