Brazil presidential hopeful Serra eyes second round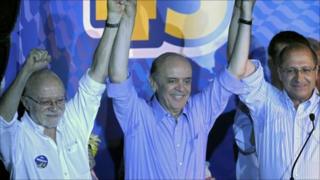 Opposition candidate Jose Serra has urged Brazilian voters to back him on Sunday and take the presidential election into a second round.
He told supporters at his final rally in Sao Paulo that there would be no rest until November, a reference to a possible run-off on 31 October.
Mr Serra trails governing Workers Party candidate Dilma Rousseff in the polls, although her lead has shrunk slightly.
The presidential candidates hold a final TV debate on Thursday night.
Mr Serra, of the Social Democratic Party (PSDB), returned to the Sao Paulo district where he grew up for his final campaign rally on Wednesday.
He called on his supporters to work right to the end to win over voters and take the contest to a second round.
Mr Serra, a former health minister and Sao Paulo governor, promised that his government would be ethical and free from scandal.
"We can have an ethical government. A government that focuses on the people and not on party politics and select groups. We want a government that is focused on all our fellow citizens," he said.
Ms Rousseff has seen her lead in the opinion polls clipped in recent days after corruption allegations surfaced involving a former aide, but she could still be on course to win outright on 3 October.
President Luiz Inacio Lula da Silva, who cannot stand for a third consecutive term, has thrown his political weight and charisma behind her campaign.
If the election does go to a second round on 31 October, Ms Rousseff is expected to win easily, according to the opinion polls.
Ms Rousseff and Mr Serra will come face to face on Thursday night for the final televised debate.
Marina Silva of the Green Party, whose support is running around 13%, and Plinio de Arruda Sampaio of the Socialism and Freedom Party (PSOL), who is polling around 1%, will also take part.