Police arrest 600 in Latin America counterfeit probe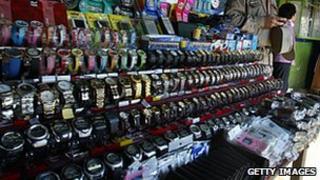 Police across South America have arrested more than 600 people in a wide-ranging anti-counterfeiting operation, says Interpol.
Products worth $50m (£32m) were seized in more than 300 raids in 13 countries.
The goods included fake satellite receivers, sports shoes, toys, car parts and soft drinks.
Interpol and the World Customs Organization (WCO) said their joint operation was aimed at breaking up criminal counterfeiting networks.
More than 300 raids were been carried out across the region at locations including border crossings, seaports and in shopping districts.
In a statement, Interpol said the seized goods represented the wide range of fake products which find their way onto mainstream markets.
"A large quantity of counterfeit and sub-standard toys which pose a significant risk to children's health and safety were also seized," it said in a statement.
The raids, part of Operation Jupiter, also discovered workshops capable of mass-producing counterfeit goods.
"Interpol will continue to work with all of our member countries to target and dismantle the organised crime gangs behind counterfeits," Roberto Manriquez, Interpol's Operation Jupiter project manager.
He said the fakes "not only pose a significant threat to the health and safety of consumers, but also affect national economies which during these times of global financial crisis can have even more serious consequences".
The raids were the fifth to be carried out under Operation Jupiter, which was launched in 2005.
The programme has so far seized counterfeit goods worth an estimated $340m and helped national police to identify and dismantle gangs involved in drug and gun smuggling, said Interpol.