Mexico steps up hunt for '20 men abducted in Acapulco'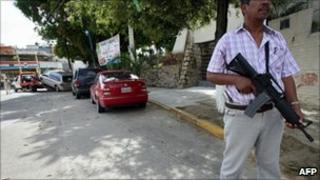 Mexican security forces have stepped up their search for 20 men reportedly abducted by an armed gang in the resort city of Acapulco last week.
The men from the neighbouring state of Michoacan were seized while driving around in four vehicles as they looked for a hotel, local media reported.
Prosecutors have launched investigations into the kidnappings.
Acapulco is popular with visitors but it is also the scene of a violent turf war between rival drug cartels.
Fernando Monreal, from the attorney general's office in Guerrero state where Acapulco is located, said the abductions had been reported by a man who had been travelling with the group.
The man said they all worked for an car mechanics company and had come to Acapulco for a weekend stay.
He said he got out of one of the cars the group had been travelling in to buy something from a nearby shop. When he returned, he said his colleagues had disappeared.
Mr Monreal said the man provided police with the names of the abducted and a description of their cars but had since vanished.
Police later found the cars abandoned close to where the abductions took place.
"We are not ruling out the possibility that they had ties to organised crime," Mr Monreal told the Associated Press.
Michoacan is the power base for La Familia Michoacana, a violent drug cartel which is active on Mexico's Pacific coast.
Over the weekend, a grenade attack on a busy square in the northern town of Guadalupe injured a dozen people, officials said.
Guadalupe is near to the city of Monterrey, where feuding cartels have been blamed for a surge in violence.
Since President Felipe Calderon launched his crackdown on the gangs in December 2006, more than 28,000 people have died in drug-related violence.