Brazil set for start of presidential run-off campaigns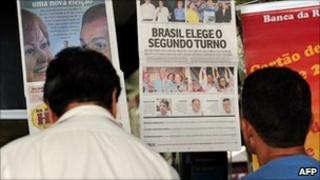 Brazil's leading presidential hopefuls are preparing to return to campaigning ahead of a second round of elections.
It comes after Dilma Rousseff, backed by outgoing President Luiz Inacio Lula da Silva, failed to secure the 50% of votes needed for an outright victory.
She now enters a 31 October run-off against Social Democratic Party (PSDB) candidate Jose Serra, who won 33%.
Green Party candidate Marina Silva surprised many in the first round by winning 19% of the vote.
Ms Rousseff, of the Workers Party, had been the favourite to win but official results showed she had 46.9% of votes, after apparently losing supporters to former environment minister Ms Silva.
As the results emerged, Ms Rousseff said she was confident that a second round would give her the opportunity to give more detail on her policies to reduce poverty and increase development in Brazil.
She told her supporters the party had traditionally fared well in second round elections - Lula also had to contest a second round in both the 2002 and 2006 elections.
Mr Serra, who lost against Lula in the 2002 run-off, told his supporters he was "going to march to victory" in the election and promised to "build a better country" if he won.
Poll boost
The BBC's Steve Kingstone in Sao Paulo says many of those who abandoned Ms Rousseff appear to have been evangelical Christians who were concerned over her stance on abortion and so moved their votes to Ms Silva, herself an evangelical Christian.
The surfacing of corruption allegations involving a former aide of Ms Rousseff's also gave a poll boost to Mr Serra.
Ms Silva's support will be crucial for the remaining candidates but she has not yet said who she will personally back.
Lula is stepping down after serving his constitutional limit of two terms in office, but does so with approval ratings of some 80%.
He has given his full support to 65-year-old Ms Rousseff, who served as his chief of staff from 2005 until this year.
During the 1960s and 1970s she was involved in the armed struggle against Brazil's military rulers, and was jailed for three years. She later became a career civil servant.
The 68-year-old Mr Serra is hugely experienced, having served as Sao Paulo mayor, Sao Paulo state governor and health minister under President Fernando Henrique Cardoso, Lula's predecessor.
Brazil, one of the world's most populous democracies and where voting is compulsory, was also choosing local and national representatives.