Brazilian election: reaction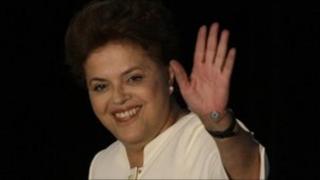 Brazil's presidential election will go to a second round after Dilma Rousseff failed to gain the 50% of votes she needed for an outright victory.
With 98% of votes counted, President Lula's former cabinet chief has 47% with Jose Serra trailing on 33%.
A strong showing by the Green Party candidate, Marina Silva, who polled 19%, may have cost Ms Rousseff a first-round win.
BBC News website readers in Brazil have been sending in their reaction.
Your comments
I will always vote against the Workers Party, that has long forgotten to defend workers and has become a mob rather than a party. Rodrigo, Sao Paulo, Brazil
I voted in Marina Silva yesterday and I believe she will be important in the second round in defining the winner. I don't want Dilma. She is part of the bad side of Lula. Heliana Pacheco, Vitoria
This is a bit of a setback for Lula as Dilma had been expected to win in the first ballot. She polled 4% less than the latest opinion polls. The vote was affected by her ill-defined position on abortion, which caused her to lose part of the religious vote. Seemingly Serra's only possible source of victory would be dependent on Marina supporting him in the second round. Tim Leonard, Sao Paulo
The populist Workers Party is putting the election before national interest. They let the economy overheat this year to elect Dilma. The Brazilian currency is over-valued, the base interest is one of the highest around the globe, price of housing is sky-rocketing, and inflation index (IGP-M) is at 7.64% of accumulated inflation for the last 12 months. With this scenario I have no hope that the inflation in Brazil for this year will be less than 7% which is very high and it will not go away soon. Most of the things that were done during Lula's term were a continuation of the work set by Fernando Henrique, the former president. It is hard to think of anything that was done by Lula. Rudy, Sao Paulo
I am very happy with the outcome of this election. Despite Lula's strong prestige abroad, the reality is that corruption and impunity have grown dramatically. Too much money is being used inappropriately - money that should be invested in education, health and infrastructure. I strongly believe that Mr Serra will be the winner on 31 October. Odivaldo Moreno, Sao Paulo
Brazil needs serious politicians and Serra and Marina showed they are. It's become apparent that the popularity of Lula and the Workers Party is not 85% as we've been told by the media. The Brazilian people are showing a high degree of political maturity, despite the occasional "clown" being elected for office. There's a diversity of political views, which means we are a democratic country. I will vote for change, I will vote for progress, I will vote for seriousness, I will vote against corruption. Good luck Brazil, bring us the future! Joao Evangelos Zacharakis, Sao Paulo, Brasil
I believe this result demonstrates how well the Brazilians are dealing with democracy. In my point of view, the voters showed their wish to discuss the facts behind this run-off more thoroughly. That shows the strength of democracy in Brazil. Marcelo, Belo Horizonte
What a relief! Not only because the Brazilian people will have a second chance to think over their decision but also because they could finally see that Rousseff is not Lula. My first choice is out of the run but not my hope in seeing a better world. I did vote for the Green Party and I will certainly keep voting in any model that brings a sustainable alternative to economical growth. Brazil has been growing a lot, but at what cost? What worries me is that Ms Rousseff is the first to support growth at all cost. Leo, Victoria
I really think that Serra will be elected in the second round, because most of Marina's supporters are going to vote for Serra. Leandro Passos, Sao Paulo
I'm really glad about the number of votes Marina Silva got. I think she is walking in the right direction to win the next election. Ms Dilma Rousseff has an excellent marketing strategy, having Mr Silva by her side, but she is not ready to be president of Brazil. La­gia Fernandes, Salto
I am surprised with senator Marina Silva's performance but she deserves it. I voted for Mr Serra and my vote won't change for the second round. Pedro Edivar Rezende, Belo Horizonte
People were really thinking that Ms Rousseff would win this presidential election without the need for a second round, but the fact that Ms Silva got a huge number of voters probably took away the chances of an outright win for Ms Rousseff. Now the candidates will have a tough time to try and get Ms Silva's votes. Wesley Michael, Pouso Alegre
I voted Green last Sunday, for Ms Silva, but I am not so sure about how I'll vote on 31 October. For me there is no viable choice between blue and red (Mr Serra and Ms Rousseff) and voting being compulsory here in Brazil makes things a little hard. The Green Party is yet to decide if they will support any candidacy for the second round and I'll try and have that in mind, but it will be a real dilemma. Diego Leo Diniz, Cachoeira Paulista, Sao Paulo
The result of the first round encouraged me to engage in Ms Rousseff's campaign more actively. I am going to vote for her again. She really cares about the neediest. Moreover, I do love democracy. Aracy Balbani, Tatui
The election's outcome was a surprise for me, and I believe for everybody else too, in the matter of Marina's share of the votes. I'll vote differently, because I voted for Marina in the first round and I think that the moment she declares her support for either Ms Rousseff or Mr Serra, we'll know who will be Brazil's next president. Francisco Colombo