'Drug lord's millions' seized in Colombia house raid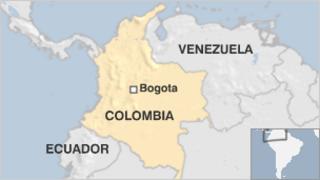 Colombian police have found $29m (£18m; 21m euros) and 17m euros from suspected drug payments in a house in Bogota.
The money is believed to be drug payments from Mexican cartels to Colombia's top drug trafficker, Daniel "The Madman" Barrera.
It brings to $140m the total of cash seized in just more than a month.
Intelligence sources told the BBC they believe Mr Barrera is in Venezuela, beyond the reach of both Colombian and US authorities.
Police acting on a tip-off raided a house in southern Bogota, uncovering bricks of cash.
The money is believed to be payment from Mexican cartels for multi-ton consignments of cocaine sent by Mr Barrera, Colombia's most wanted drug trafficker, for whom the US is offering a $5m reward.
It seems the security forces have penetrated the kingpin's network, as this is the fourth seizure in little more than a month.
Though the police have been able to track the Colombian drug lord's money, they have not had any luck finding him.