Mexico's pain over victims of abduction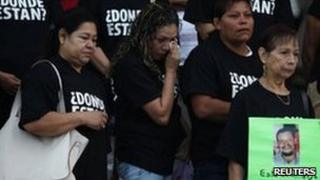 Mexican authorities are continuing their investigation into the reported abduction by an armed gang of some 20 men in the resort city of Acapulco last week.
Officials in the state of Guerrero, where Acapulco is located, are treating the incident as another case of "illegal deprivation of liberty".
But some rights groups say the reported kidnapping is the latest example of an increasing phenomenon in the country: the disappearance of young working men, many of whom are never heard of again.
"Since 2009, we've seen a significant increase in people who have disappeared, often in a group," said Blanca Martinez, director of a group called Forces United for Our Disappeared in Coahuila (Fuundec).
"They're just ordinary working people," Ms Martinez told BBC Mundo. "There's no evidence to suggest they are involved in any kind of illegal activity or are part of organised crime."
Fuundec has documented 82 cases of disappeared people since 2007 just in the state of Coahuila, in the north-east of Mexico.
Almost all the presumed victims were young men, some snatched while they were travelling for work and had come from other parts of the country.
There were no threats, no ransom requests nor any other attempt to extort money from their families.
Drug trafficker?
Yolanda Moran knows better than anyone what it means to have a relative disappear.
Her son, Dan Jeremeel Fernandez, a 35-year-old accountant, in the city of Torreon in Coahuila never arrived to meet her. It was 19 December, 2008, and Ms Moran was waiting for him so they could spend Christmas together, as they had done for years.
The only thing she found was his car, with his suitcase trampled on and a bullet casing on one of the seats.
"The authorities asked me if my son used to go around spending a lot of money... if he was in trouble... if he was a drug-trafficker," Ms Moran said. She never received a call from him or from any kidnapper.
"They even said to me that perhaps he'd gone off with some woman."
Ms Moran wonders if her son is being held and exploited by some criminal organisation.
'Snatched'
Since the early 1990s, Mexico's northern border with the US has seen what are called "levantones" - cases where criminal gangs often openly snatch people from the street, and who in some cases are linked to a rival gang.
"Usually you never hear any more about them," said Victor Clark Alfaro, director of the Binational Center for Human Rights, based in Tijuana.
"And if you do, it's because they turned up murdered in some clandestine cemetery hours, days or weeks later."
Unlike cases of more conventional kidnapping, the fate of people who have been "snatched" is completely unclear and there is no communication with their families.
"They don't ask for a ransom; it's a settling of accounts with the enemy, a rival gang," said Mr Clark.
The Binational Center for Human Rights, which a decade ago stopped documenting cases after its members received death threats, estimates that thousands of people have been "snatched" along the border since 1990, basing its figures on cases reported in the media.
But there is no way of knowing exactly how many people have been seized in Mexico in recent years.
Fear of testifying, lack of witnesses or in some cases the impossibility of identifying dead bodies have made it difficult to keep a register and investigate disappearances.
In some Mexican states, there are prosecutors who specialise in investigating "forced disappearances", while the National Human Rights Commission (CNDH) also tries to keep track of and speak out about disappearances.
But in practice, it is very hard for official bodies to act if there are no signs that state actors are involved, such as soldiers or police, says Santiago Corcuera, former head of the UN working group on enforced disappearances.
"What we are seeing now are not just disappearances carried out by the State, or with its acquiescence. It is acts of vengeance between drug gangs. And then there are cases where we simply don't know who is behind the kidnapping," he said.
"A kidnapper says he has his victim and demands a ransom. But these victims, they are lost people."
Translated from the Spanish by Liz Throssell, BBC News