Ecuador president extends emergency rule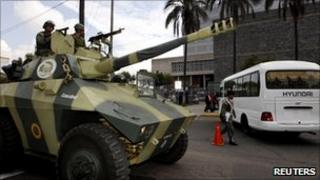 A state of emergency in force in Ecuador following a police rebellion last Thursday has been extended by the president until the end of the week.
Rafael Correa said he was acting at the request of Ecuador's National Assembly, which had suspended its activities due to a lack of security.
The army has taken over from police guarding the parliament building, with armoured vehicles deployed outside.
Mr Correa has said the police revolt amounted to a coup attempt.
The violent unrest on Thursday began as a protest by some police against a law scrapping their bonuses.
President Correa had tear gas fired at him and was then trapped inside a hospital surrounded by protesting officers for more than 12 hours before he was rescued by the army.
Several people died in gun battles between troops and police.
'Not over'
Some of Mr Correa's supporters in the National Assembly say they were mistreated by police guards during the disturbances.
The assembly suspended its session on Tuesday due to a "lack of security guarantees", and asked the military to take over from the police guard.
Troops with armoured vehicles are now guarding the parliament building and patrolling the streets of Quito.
The state of emergency had been due to end on Tuesday night, but President Correa said he was extending it until Friday "so that the National Assembly can exercise its full legal and constitutional powers."
Some opposition parliamentarians have criticised the decision.
But the Ecuadorean foreign minister, Ricardo Patino, said the situation was still delicate.
"The people who shot at the president's car, and fired on the people in the streets, are still free, so the crisis is not over," he told the Spanish news agency Efe.
The Ecuadorean news agency Andes has published an unverified recording of what it says is police radio on the day of the disturbances in which officers appear to call for Mr Correa to be killed.
"Kill Correa and get this finished. Kill Correa and the protest will be over," the voices on the tape say.
Earlier on Tuesday, the government increased army and police pay for several ranks.
The defence ministry said the rise was not linked to the police rebellion.
The protests were the most serious challenge for Mr Correa, who took office in 2007 and won a second term in 2009.
Ecuador has a long history of political instability, and has had eight presidents since 1996.