Brazil minidress row student compensated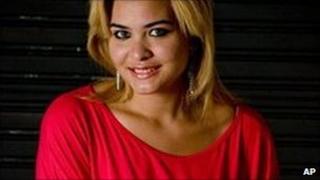 A Brazilian university has been ordered to pay $23,600 (£14,840) to compensate a student who was briefly expelled after she went to class in a dress deemed too short by officials.
Geisy Arruda had already been readmitted to Bandeirante university in Sao Paulo after a public outcry.
Her lawyers were seeking a much higher amount and say they will appeal.
The case provoked widespread debate in Brazil about personal freedom and public morality.
A civil court said the award was enough to compensate Miss Arruda for damages without endangering the financial health of Bandeirante University, a private college in a suburb of the city.
Geisy Arruda, 21, provoked jeers and insults from fellow students last October when she wore a short red dress to class.
The university expelled her for disturbing classes through "a flagrant lack of respect for ethical principles, academic dignity and morality".
But it reversed its decision within weeks following a media outcry and pressure from the education ministry, which accused the university of "total intolerance and discrimination".
Ms Arruda said at the time she felt humiliated by the expulsion.
But the media uproar made her a minor celebrity in Brazil.
In its defence, the university argued that she had deliberately provoked the controversy to become famous.
Miss Arruda's lawyers say they will appeal for a much larger sum in compensation for her "trampled dignity".
Skimpy clothing is normal on beaches and in nightclubs in Brazil, but is sometimes frowned upon in formal settings.