Paraguay's Lugo 'to resume work' after health worries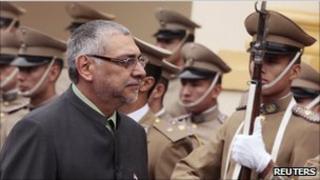 Paraguayan president Fernando Lugo has brushed aside concerns about his health, saying he intends to return to work on Wednesday.
On Sunday Mr Lugo - who has non-Hodgkins lymphoma, a form of cancer - was rushed to a Brazilian hospital with a suspected blood clot.
Opposition politicians have urged Mr Lugo to put his health before politics and take a leave of absence if needed.
But the president says he will be "like new" once he has finished chemotherapy.
Health issues
In addition to the blood clot and cancer, Mr Lugo, 59, had prostate surgery in January.
If he took a leave of absence, power would pass to Vice President Federico Franco, whose conservative party has sometimes clashed with Mr Lugo.
The leader of one opposition party, retired Gen Lino Cesar Oviedo, said the president should leave Mr Franco in charge because "health issues have no time or date", the Associated Press news agency reported.
The president's aides say the concern for his health is an attempt to push him from office.
Mr Lugo is a former priest in the Roman Catholic church turned centre-left politician.
He was elected two years ago after 61 years of unbroken conservative rule.
Mr Lugo has maintained friendly relations with the United States as well as leftist leaders such as Hugo Chavez of Venezuela.
However, he caused a scandal last year when he admitted fathering a child while still a priest.
Two other claims that he had fathered children have since been dismissed.