Can Mexico and Afghanistan learn lessons from Colombia?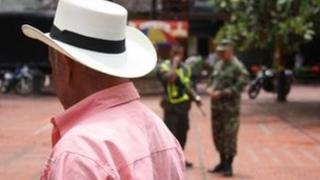 Brigadier General Alberto Jose Mejia Ferrero, commander of the 4th Brigade of the Colombian army, is a man who knows his own mind.
Ask him what you need in order to defeat the powerful drugs cartels, left-wing guerrillas and right-wing paramilitaries that almost brought Colombia to its knees in the 1980s and 1990s and his answer is just one word: security.
Without security, he says, nothing makes sense. Without security, you cannot deal with poverty, or build roads or schools, or do any of the other things that make a state worth living in.
It is a lesson that he says governments elsewhere would do well to learn - in countries like Mexico, spiralling ever deeper into Colombia-style drugs-related violence, and even in Afghanistan, where classic counter-insurgency strategy bears a close resemblance to what has been tried in Colombia.
Indeed, in recent years, Afghan army officers have come to Colombia to be trained.
Thriving community
According to official government figures, the number of murders in Colombia decreased from 28,837 in 2002 to 15,817 last year.
The number of kidnappings was down from 2,882 to 213 over the same period.
The chairman of the US Joint Chiefs of Staff, Admiral Mike Mullen, said on a recent visit: "There's a great deal to be learned from the success that has been seen here in Colombia."
Take the picturesque little town of San Carlos, for example, a three-hour drive east of Colombia's second largest city, Medellin, set amid beautiful tree-covered mountains and glistening lakes.
A decade ago, it was dying, a virtual ghost town - more than half its 20,000 inhabitants had fled to escape from the brutal drugs gangs and paramilitary groups who controlled the roads in and out of the town.
Anyone rash enough to venture along them risked kidnapping, or worse.
Today, it is a thriving community. Thousands of its residents have returned to their homes The dynamic young mayor, Francisco Sanchez, said the key difference was that once again the state has a presence there.
The army and the police can been seen on the streets and in the rural areas nearby - but ask local people what would happen if the army left, and they say simply: No, it won't happen.
"I never used to trust the army," said one man. "Now, I love them."
'Extra-judicial killings'
But there is a darker side to the Colombian picture. The cultivation of coca, which is used as the basis for cocaine, has barely diminished at all.
New, smaller trafficking networks have been established to take the place of the once powerful cartels, and in Medellin, the murder rate rose sharply last year.
As for the army's "successes", Gloria Arboleda has a very different story to tell.
Her husband disappeared one day in 2007 after going out to work as a day-labourer on a friend's farm. He never returned, and eventually Gloria learned that he had been shot by the army as an alleged guerrilla.
"They took away the father of my children. I think of what happened every single day," she said.
More than 1,300 cases of so-called "extra-judicial killings" are being investigated in Colombia, and human rights groups complain that little action is ever taken against military abuses.
Gen Mejia says on the contrary, there are dozens of cases of army personnel serving jail terms after being convicted of unjustified killings.
But of course there is more to winning a war against drugs cartels, guerrillas and paramilitaries than just sending in the army.
Santo Domingo, one of Medellin's poorest neighbourhoods, used to be regarded as one of the most dangerous places in one of the most dangerous cities in the world.
Taking the cable car up to it allowed me to see what is being done to contribute to rebuilding a functioning community.
Demobilisaton programme
Former Medellin mayor Sergio Fajardo proudly showed off a modernistic school he built for local children and an architecture award-winning library and cultural centre to be used by local people.
"It's no good just killing the men with the guns if they are immediately replaced with others," he said.
"You have to ask yourself why young people choose to go through a door that leads only to violence and death - and you have to provide them with another door, one that leads to education and opportunity. It's the only way to weaken the gangs and strengthen the state."
The ex-mayor travels regularly to Mexico to share his vision. But he warns those he speaks to: "Don't copy what we did. Learn from it."
One of the lessons Mexico could learn from perhaps, is a school in the centre of Medellin.
More than half of its students are former fighters, both left-wing guerrillas and right-wing paramilitaries - some of them well into their 20s and 30s.
They sit in neat rows of desks learning maths or how to read, as part of the government's ambitious demobilisation programme, designed to entice fighters out of the jungles and deep mountain gorges.
In return for laying down their weapons and giving a full account of their previous activities, they have been offered financial incentives and other assistance to rebuild a life on the right side of the law.
Security, demobilisation, and the rebuilding of a civil infrastructure. A useful lesson for Mexico or Afghanistan? Colombian officials say yes, without a doubt.
But others are not so sure. Critics have said there is still a culture of impunity in which too many crimes go unpunished; there is still widespread corruption; and coca is still being grown in huge quantities.
Colombia today is certainly a much better place than it was a decade ago. But its war has not yet been won.
Robin Lustig is reporting from Colombia for The World Tonight on BBC Radio 4 at 2200 BST on Thursday 7 October and Friday 8 October. Listen again on BBC iPlayer.