Chile mine rescue: Your reaction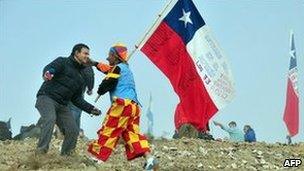 Rescuers have drilled through to the underground chamber where 33 Chilean miners have been trapped since 5 August.
The evacuation is likely to start on Wednesday, the country's mining minister Laurence Golborne has said.
The miners' ordeal - now in its 66th day - is the longest suffered by a group of miners caught underground.
People around the world have been sending their comments and tweets in reaction to the news:
"A lot of excitement in the camp as the T-130 drill made it to the mine. Relatives are now running up the hillside where they had put up Chilean flags." Chilean journalist Consuelo Solar, tweeting from the camp.
"Good morning! 'So fight for what you desire/ And don't lose your fire if something doesn't go well/ Today may be a really great day and tomorrow as well.'" Mining Minister Laurence Golborne quoting Spanish singer Joan Manuel Serrat on a tweet before the breakthrough was announced
I am from Concepcion, Chile. This news is the second best news this year since it was found out that the miners were alive. As a Chilean, we need to finish this year with some happiness after so much pain. Thanks to all the people and countries that helped with this operation. Gracias. Carolina in Nottingham, UK
"I confess it - I hate that the government is making a feast out of the rescue. That's their job and what they're supposed to be doing anyway." Vanessa Vasquez tweeting from Chile
"I'm relieved to know that we are almost ready to pull these men out of the depth of the mine. It is now when the real challenge comes to our country. For the people outside Chile: know that these men are almost national heroes. Let's hope they all get in one piece to the surface." Ian Paul Kenchington in Vina del Mar, Chile
"This is a very good way to start the weekend. Everyone in my family is very happy." Diego Rivadeneira, tweeting from Santiago de Chile
Comments from around the world
Scarcely believable. If I had a faith I would say it is a miracle. As it is I have to say it is a tribute to the courage of the trapped men and the ingenuity and technical skills of their rescuers. I do not know these people personally, although we probably all have come to think that we do, and it is simply wonderful news. I shall not get a better Christmas present this early - early though it is. Thank you. Rudi in Ifield, UK
Great news. I am wishing all the miners a safe journey from the mother earth's womb to the world of love, where millions of strangers pray for them as well as their loved ones. Ajith in Kerala, India
It is great news that the rescue of the miners is getting closer. I am very impressed with the Chilean authorities in the way they have handled this mining event. They have taken a situation which could have been a tragedy and it looks as though they are making it a triumph. I hope in the future they will continue the good work and make their mining industry a safer one. We should not forget the miners who have shown a great deal of bravery and team spirit. They have worked together for the good of each and all. This could so easily have been a great tragedy, instead it has become a lesson to us all. Roger in Devon, UK
The miners finally gonna get evacuated Wednesday finally! I really can't imagine being stuck down there for a month. fairvatican Simran Kaur
Well done and congratulations to everybody including the suffering miners and families and also to those who helped make this operation a successful one. Kyaw San Win in Yangon, Myanmar
I would like to appreciate the government of Chile and all parties involved in the efforts they have put in to reach this far. I will be one of the most happy to read and see pictures of these trapped miners when they come out of the underground. Makasa in Lusaka, Zambia
Absolutely delighted with the news. I have been a deep-sea fisherman for 60 years and in 2001 it was mistakenly thought that I had died at sea. My wife and family had an anxious 10 hours or so, so we can empathise with the families of those hard working miners. Buiochas le Dia. Dios gracias - Thank God for their delivery. Gerry Doyle, Newry, Ireland
Can't help but smile. The engineers did a great job. Hopefully the families are reunited soon. Nimra Ahmed, Calgary Canada
I have spent 44 years working underground so I know exactly what their feelings will be. It will be brilliant to see these poor men brought to the surface. I have watched the whole procedure from beginning to end, and have felt everyone's pain and anguish. I shall be in tears for them when they bring them out. God's speed to you all. Bob, Teeside, UK
I have kept my eyes glued to theTV hoping for good news and I keep going online on BBC mobile ever since the miners' ordeal began. Being a miner I feel so relieved that their rescue is imminent. No one on the surface can ever know how they felt to be trapped for such a long time. God bless the miners. Alfred Nzala, Chingola, Zambia
I admire the courage of the miners and the rescue operation. I am absolutely sure that the rescue will be successful. We will be following all the details and wish them a happy return to the surface. Francisco Mattei Rosaly, Puerto Rico
Being an engineer I thank our fraternity in Chile to have done this wonderful achievement. I suggest that engineering fraternity of Chile needs to be honoured for such a rescue mission. Very warm regards from an Indian engineer. Atis, Ghaziabad, India
"The one place in the world I'd like to be right now: Chile - to cheer the miners' rescue. A metaphor for why we struggle and survive". Anand Mahindra tweeting from Mumbai, India
"I'm so grateful they've finally reached the trapped miners in Chile today! I wish them a safe rescue." Fred Durst, member of band Limp Bizkit
I am with you Chile. I am imagining your experience and courage to winch the brave guys to the earth. I hope all ends well to bring all these precious friends back to the light again. Bad things can happen, but Chile, has shown love and care to the world in every minute you work at this rescue, God bless you. Bright in Athens, Greece
Fantastic! These guys should become national heroes and get a full pension for the rest of their lives. Let's just hope that the final act of getting them out goes without a hitch. Good luck to all involved. Mik in Perth, Australia
To be trapped underground must be sure purgatory and I will not breathe a sigh of relief until the last man is winched free. Hang in there guys, the world is watching and waiting for your release. Vicky, Stevenage, UK
This is good for everybody around the world and a special day to all Chileans. Harrison, Lilongwe, Malawi