Cries of joy as drill reaches trapped Chile miners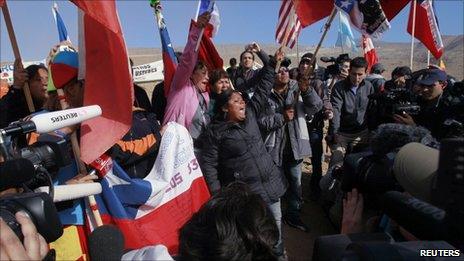 The drilling operation is effectively over but the ordeal for the 33 miners trapped underground in Chile goes on - at least for a few more days.
On Saturday, one of the three drills being used to reach them punctured through to an area known as the workshop, an underground chamber that the miners can access.
The news triggered celebrations at Camp Hope, the ever-expanding makeshift camp that has been home to some of the miners' relatives for more than two months.
At shortly after 0800 local time (1200 GMT), cries of joy could be heard from the tents where the miners' families were sheltering. They had heard the news.
A bell was rung and, in the morning mist, a few relatives scrambled up a barren hillside overlooking the site to chant and wave red, white and blue Chilean flags.
"I'm happy, I'm happy, because it means that Mother Earth is going to give our loved ones back to us," said Alicia Campos, the mother of Daniel Herrera, one of the trapped men.
"I'm happy because it means my son is going to be born again and I'm going to look after him 24 hours a day, because he deserves it."
"It's been a long wait but we're already starting to forget about that wait."
Moments later, the Chilean Mining Minister, Laurence Golborne, strode down from the mine to talk to reporters, and he highlighted the symbolism of the moment.
"It's very curious that we are having 33 days of drilling for the rescue of 33 souls," he said.
What happens next depends on the engineers.
They will inspect the walls of the escape shaft to test the quality of the rock.
On the basis of that assessment, they will decide whether to clad the walls of the tunnel with a metal sleeve, or leave them bare.
That decision will determine the timetable for the rescue. Mr Golborne has said it will take place sometime within the next two to eight days.
Once the tunnel is secured, the rescue team will set up a winch at the top of it and lower a specially designed escape capsule down to the miners.
Only then will the men be brought up to the surface.
A group of medics will be waiting to meet them.
The men will be given preliminary first aid at the site, will be reunited with a few of their relatives and will then be flown by helicopter to the nearby city of Copiapo.
They will be kept in hospital for two days and only then will they be allowed home.
Related Internet Links
The BBC is not responsible for the content of external sites.