Mine engineers start to reinforce Chile rescue shaft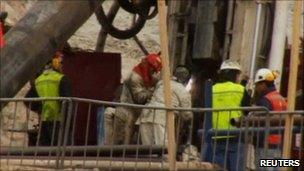 Engineers have begun reinforcing the top of a mine shaft in preparation for the evacuation of 33 miners trapped underground for 66 days.
On Saturday, they succeeded in drilling through to a workshop chamber, from which the men can be rescued.
Sixteen metal tubes are being welded together to reinforce fragmented rock in the first 100m (330ft) of the shaft.
Chile's mining minister says the operation to bring the miners to the surface should then begin on Wednesday.
Laurence Golborne told reporters that the 12 engineers working on the piping hoped to complete the steel casing of the shaft by 0900 (1200 GMT) on Monday.
After that, a winch-and-pulley system will be assembled above the shaft before the capsule, named Phoenix, can be lowered to the trapped miners.
Mr Golborne said the process of installing the platform would take "about 48 hours". At that point, the rescue will begin.
"We don't know if we're going to run into any difficulties, so we're talking about Wednesday but we have to do some dry runs with the empty capsule," he said.
He added that the operation could be delayed by a day if there were any complications.
A medical team will be sent down the shaft. The first to be hoisted to the surface will be some of the strongest of the miners, followed by those thought to suffer from chronic health problems such as blood pressure or lung illnesses.
The men were trapped deep underground on 5 August when a partial collapse blocked the exit to the San Jose mine in the Atacama desert. They were presumed dead until 22 August when they revealed they had all survived in an emergency shelter.
After 65 days of drilling and three separate rescue plans, engineers finally broke through on Saturday morning.
Relatives of the men danced, sang, and cheered when they heard the news and celebrations were reported across Chile.
The miners had been described as "in great spirits and relaxed".
Mr Golborne said that the rescuers were also continuing work on another, wider shaft, using the Plan C drill, as a back-up. That drill had descended to 447m below the surface, he said.
Related Internet Links
The BBC is not responsible for the content of external sites.