Brazil presidential hopefuls clash in TV debate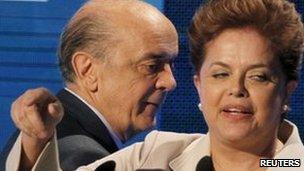 Brazilian presidential candidates Dilma Rousseff and Jose Serra have clashed in a TV debate as they gear up for the second round vote on 31 October.
Mr Serra from the Social Democratic Party accused Ms Rousseff of being two-faced and incoherent on moral issues.
Ms Rousseff, the governing Workers' Party candidate, accused the Serra campaign of spreading lies about her.
Latest opinion polls put Ms Rousseff, who fell short of a first round win on 3 October, on 48% and Mr Serra on 41%.
Some 11% of voters say they are undecided.
In Sunday night's TV debate, Mr Serra accused Ms Rousseff of abandoning her position on moral issues in a bid to win over religious voters.
"You clearly said you were in favour of legalising abortion and then you changed and said the opposite," said Mr Serra, a former Sao Paulo governor.
"In some interviews, you doubted God's existence and now you are a believer."
Ms Rousseff accused Mr Serra's campaign of using personal and false attacks on her.
"Your campaign is trying to do harm with lies, slander and defamation," she said.
Ms Rousseff, who won 46.9% in the first round to Mr Serra's 32.6%, has seen her lead in the opinion polls narrow.
The issue of abortion has come to the fore as the two candidates seek to win over the 19% of voters who backed the Green Party's Marina Silva, an anti-abortion evangelical Christian, in the first round.
During the campaign, Ms Rousseff had spoken of abortion as a public health issue, a stance that may have cost her votes.
Abortion is only legal in Brazil if a pregnancy is the result of rape or if the mother's life is at risk.
During the debate, Ms Rousseff and Mr Serra also clashed over the role of Brazil's state-controlled oil company Petrobras.
Ms Rousseff said her opponent favoured privatising the company, reminding viewers of his involvement in the sale of state companies in the 1990s during the previous administration.
Mr Serra denied any plans for a sell-off, saying he would take steps to strengthen Petrobras.
Related Internet Links
The BBC is not responsible for the content of external sites.