Elite Colombian soldiers guilty of killing civilian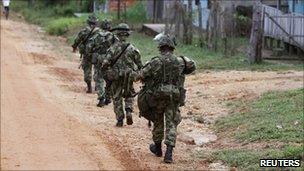 A court in Colombia has found seven members of an elite anti-kidnapping squad guilty of killing a civilian and saying he was a left-wing guerrilla.
The soldiers claimed they had killed Eduardo Perez Vega in combat in the eastern province of Casanare in 2007.
They then said he was a member of the Revolutionary Armed Forces of Colombia.
The incident was one of hundreds of so-called "false-positive" cases, which were used by the Colombian military and police to inflate their successes.
Thousands of people are believed to have been killed in such extrajudicial executions, which started to come to light during the tenure of former President Alvaro Uribe.
Many of the victims were dressed as rebel fighters after they were killed.
The perpetrators were sometimes promoted as a consequence of the false-positive cases.
On Monday, the court found three of the seven soldiers - including the leader of the squad, Maj Gustavo Enrique Soto - guilty of kidnapping Mr Perez from an internet cafe in the city of Villavicencio, in Meta province.
They then killed him and dumped his body in neighbouring Casanare.
The prosecution proved that the reported combat never took place, and linked one of the soldiers to calls made on the victim's mobile phone.
Related Internet Links
The BBC is not responsible for the content of external sites.