Gunmen ambush and kill eight Mexican police officers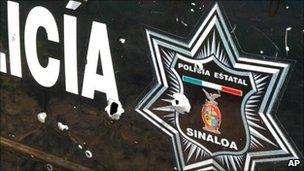 Suspected drug gang hitmen have ambushed a police convoy in the western Mexican state of Sinaloa, killing eight officers.
The gunmen, travelling in three or four vehicles, "began shooting with automatic weapons", an official said.
The state is home to one of the country's most powerful drug gangs, the Sinaloa cartel run by Mexico's most wanted man, Joaquin "Shorty" Guzman.
More than 28,000 people have died in drug violence since since late 2006.
The police officers were patrolling a road 80km (50 miles) form the state capital, Culiacan, when they were attacked on Monday.
The killings highlight the challenges for Mexico's police as they and other security forces seek to take on the drug gangs.
Officiers are also drawn into working for the gangs in order to supplement their wages.