Hurricane gains strength as it heads to Mexican coast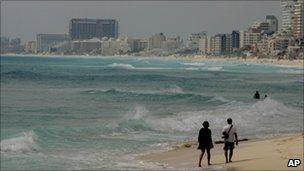 Hurricane Paula is gaining strength as it is heading towards Mexico's Yucatan Peninsula.
The hurricane intensified to a category-two storm with winds of up to 160km/h (100 mph), forecasters at the US National Hurricane Center said.
It has brought strong winds and heavy rain to north-east Honduras and damaged homes in Honduras, officials said.
The centre of the hurricane was expected to hit the Mexican coast early on Wednesday.
Heavy rainfall was also expected in Nicaragua and Belize.
At 0000GMT Paula was located some 135km (85 miles) south-east of the island of Cozumel off Mexico's Yucatan Peninsula, the Hurricane Center said.
The storm is moving north towards the peninsula, where a hurricane warning is in force along part of the coast.
As Paula approached, schools were closed along the eastern coast of Honduras.
Officials said rain of up to 20cm (8 inches) of rain had fallen in part of the country. In the eastern region of Gracias de Dios, winds and rain had damaged 19 homes, they said.
Mexico and Central America have been hit by a series of floods and landslides in recent weeks, with thousands of people left homeless.
Related Internet Links
The BBC is not responsible for the content of external sites.