Hurricane Paula weakens to tropical storm over Cuba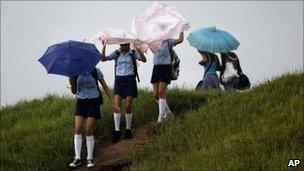 Hurricane Paula has been downgraded to a tropical storm as it passes over western Cuba.
The storm's winds had dropped to 110km/h (70mph), and were expected to continue falling, the US National Hurricane Center said.
But it was likely to produce further heavy rain, which could cause floods and landslides in mountainous areas.
Cuban state media said about 120 people were evacuated to higher ground in Pinar del Rio province as a precaution.
At 1500 GMT storm Paula was about 180km (110 miles) west-southwest of the Cuban capital, Havana, and moving slowly east-northeast along the Cuban coast.
A tropical storm watch is in force for Pinar del Rio and Havana, the Cuban government said.
Pinar del Rio province, on Cuba's western tip, was badly hit by hurricanes in 2008, but Cuban officials say they do not expect any repeat of the devastation.
Pinar del Rio's tobacco fields, the source of Cuba's famous premium cigars, have been protected and leaves from the previous harvest safely stored, officials said.
Paula headed towards Cuba after brushing Mexico's Yucatan Peninsula with strong winds and downpours.
It was the first hurricane to hit Cuba during this year's season.
The storm also brought strong winds and heavy rain to north-east Honduras, where some 19 houses were damaged.
Mexico and Central America have been hit by a series of floods and landslides in recent weeks, with thousands of people left homeless.
Related Internet Links
The BBC is not responsible for the content of external sites.